Annoying Habits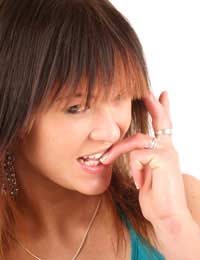 At first glance you think your new date is the perfect partner but then when the honeymoon haze lifts and reality kicks in those quirky attributes that you were drawn to are now the exact same things that drive you crazy.
Focus On the Positive
When it first hits you that your partner isn't that perfect specimen you had your heart set on it can be easy to feel disheartened and disappointed. As their annoying habits come to your attention you are likely to focus on them and the annoyance will be magnified. Stop.Yes, your partner probably has loads of annoying habits but they will also have even more good points.
Sit down and think about what drew you to them in the first place. Was it their sense of humour? Their cute smile? Their way of making you feel relaxed? All those qualities are still there but you have just let them be overshadowed by the annoyances. Pick a good quality and compliment your partner on it. If you constantly only comment on their bad traits, your relationship will go down hill very quickly.
Are You Perfect?
You may think that you are perfect but you're not. No-one is. Take a good hard look at yourself and ask what annoying traits you have. We all have them but tend not to notice until they are pointed out to us. Maybe it doesn't seem like an annoying habit to you but your partner is unlikely to think their nose picking is a big deal.
Rather than focusing on how your partner can change concentrate on what you can do to fix you annoying habits. You will find it is a lot more difficult to change your behaviour than you imagined and may stop you nagging your partner so much.
Changing your partner is very difficult but you can control they way you react to them. Is it really that important whether they pick their towel up off the floor? Try letting things go a bit more and realize that none of us are perfect.
They Won't Change
Everybody thinks that they have the power to make their partner change and that you will eventually mould them into what you want. However trying to change your partner and constantly nagging them will just wear them down. Often it actually makes them become more stubborn and less likely to change.
If something particularly bothers you try talking to your partner about it and explain why it annoys you. Have a clear, reasonable idea about what they could do to make it better.Another good way to change bad habits is positive reinforcement. Say, for example, you don't like certain outfits that your partner wears. Don't make a negative comment when they wear them but when they wear something you do like, comment on how sexy and gorgeous they look. They will enjoy being complimented and associate the outfit you like with a positive reaction.
Ultimately though, you will just have to decide whether you can live your partner's annoying habits or not. Clinging on to the hope that they will change will leave you waiting forever. Are there enough good points in the relationship to outweigh the irritating glitches? If so, then grit your teeth and get on with it.
You might also like...