Finding Time for Each Other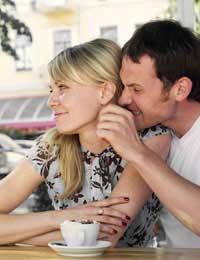 Do you often feel like there just aren't enough hours in a day? With work and chores and children spending time with your partner can fall a long way down your to do list and sometimes doesn't seem to feature at all. For a healthy, happy relationship though it is critical to spend some quality time together.
Finding That Extra Hour
If you are in need of a 27 hour day the thought of finding any spare time can almost make you laugh out loud. You are lucky if you can fit in a shower without someone harassing you, let alone finding a full hour to spend with your partner. If something is important enough though, it will make the top of your to do list and more inconsequential things will slip off the bottom. Making time for your partner needs to start climbing the list.
Perhaps you could arrange a play date so your kids spend a few hours somewhere else? Resist using this time to catch up on the chores and enjoy being alone with each other. If your work schedule is jam packed, make an appointment in your diary to see your partner. This may sound extreme but if you know it is coming up, you can arrange the rest of your day around it.
Take Time Out
When regular day to day life is just too hectic then you need to break away. Whether it is just for one evening, or a whole weekend, plan to take timeout to be with your partner. Book a babysitter or get a relative to watch the kids and go for dinner or for a quiet drink. Take a cheeky sickie off work or book a night or two away in a hotel and just lounge around all day together. However much time you can spare it is important to rejuvenate and remember why you got together in the first place. Time in front of the TV doesn't count as you are not engaging with each other. Have fun, be carefree and enjoy each other away from everyday life, if only for a short while.
It's The Small Things That Count
Sometimes taking a whole day or even an hour out of your day is impossible but you can still make time for your partner. Just a few quality minutes snatched here or there will make a hug difference. Sit and have dinner together and agree not to talk about the children, bills or work. Make a pact that everyday you will tell each other something that happened.Stay up for 10 minutes when you go to bed and share a great memory or get up 5 minutes early in the morning to tell your partner about your dreams.
Even small gestures will show your partner you are thinking about them even if you haven't got time to spend with them. Write them a little note as your rush out the door or buy them their favourite chocolate bar when you stop to get milk.
However long you can spare, making time for each other is essential to keep your relationship alive. As soon as you make this a priority you will find that it gets easier to fit it into your busy life.
You might also like...