Going Through a Divorce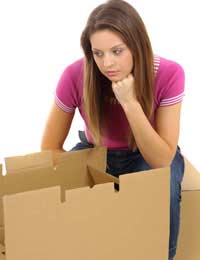 Going through a divorce can be stressful upsetting and feel like your whole world is falling down around you. As well as the emotional issues there are practical things to deal with and it can be easy to feel overwhelmed and out of your depth.
Emotional
When you got married you thought your life was sorted and that you and your partner would live happily ever after. When your dream is shattered all your expectations are ruined and you feel like you are going to have to start all over again. If your partner asked for the divorce then you may think that they have got it easy but they too will be suffering. When you end a marriage you feel immense guilt and responsibility for ruining your partner's life, even if you know it is for the best. So many different emotions are felt when you are going through a divorce that it can be difficult to process. You mourn for the loss of the relationship and the break down of your dreams. You are angry that it has happened and at your partner. You a scared about being alone and facing the future and if there are children involved you feel guilty for tearing the family apart. It is normal to feel all these things and it is healthy to work through them. Seeking help from a professional counsellor will help you understand your feelings and combat them. With all the practicalities you have to sort out it is much easier to remain amicable with your ex and if you have children it is important you can communicate effectively for their wellbeing.
Practical
What's yours is mine and what's mine is yours – until it comes to a divorce and then ownership becomes a much more sticky issue. From the big things such as houses and cars down to who gets what CD, it can be an ugly fight to get what you think you deserve. If it is possible to talk sensibly and maturely about the splitting of assets then your divorce settlement will be a lot less painful and expensive. However if this is not possible then you will need to call in the help of a solicitor. Still, it is much better to be reasonable about the situation and try not to screw your partner for everything you can. Usually this is not to do with what you need or think is fair but is fuelled by anger and resentment. Letting go of these emotions doesn't mean that you ex has won, but will make your journey a lot smoother. If you have children together you really need to focus on their welfare rather than getting your own back. Consult a solicitor but make sure their other parent is allowed to play a prominent role in their life. Your children will already be finding the divorce and upheavals difficult so don't try and get back at your ex by using your children as bait.
When you are going through a divorce it can be difficult to see the light at the end of the tunnel but you will emerge stronger, more independent and ready to face the world. Try not to let your negative emotions consume you and be fair and respectful in negotiations with your ex.
You might also like...
I need advice regarding my divorce. I separated from my husband 2 years ago. When he left he stopped contributing tothe house/mortgage I've been paying everything on my own for 2 years. We have 3 children whom he pays child maintenance for through the cms and he has them every other weekend. He says because the mortgage is in both our names he's entitled to 50% of it whenever we sell it. I have no plans to sell it. My youngest child is 4. I could spend the next 12 years paying house alone and he'd still want 50%, does he have a claim? I don't earn enough at the moment to take out a mortgage on my own. Surrly if he wants 50% of the house he should be paying 50% of the mortgage?
Slm
- 9-Jul-17 @ 11:56 AM