How do I End It?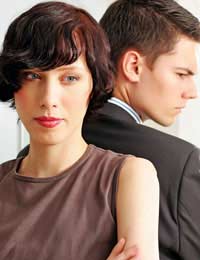 However much you may want to end your relationship actually carrying it out is never easy. Planning where and when to do it and what you will say can help make the situation less painful though.
Are You Sure?
Before you decide to end your relationship be sure that it is definitely what you want. Why do you want to end it? If your feelings have changed or you have fallen out of love with your partner then that is a solid reason. If you have met someone else or are moving away then it makes sense. If you are just thinking that maybe there is something better out there or are you scared things are moving too fast, then sit down and have a good think. You may think that you could just have a break, or go back to your partner if you want to, but this is unlikely to happen. Once you have broken that trust there is no guarantee you will be able to re-build it.
Setting the Scene
Before you break up with somebody think carefully about when and where you will tell them. For example it's not fair to break up with them if they are in the middle of their exams. Equally if they have an event coming up that they are really looking forward to, such as their sister's wedding, it would be a bit mean to dump them just before.
Also, think about where you will do it. While choosing a crowded public place might seem like a good idea as they are less likely to make a scene that would be very selfish. Pick somewhere where your partner feels comfortable and doesn't have to go far from, ideally their home. Choose a time when you will not be rushed or interrupted so you can do the best job in a bad situation
Honesty is the Best Policy
It may seem like just another one of those cheesy sayings but honesty usually is the best policy. Think about your reasons for ending the relationship and explain them clearly and calmly without being mean or spiteful. Your partner will no doubt be shocked and upset and will have a lot of questions. Try your best to answer them and not to retaliate to any angry remarks. If you have cheated on your partner then the honesty policy doesn't always apply. If you think there is no way that they will find out then it is best to save them the pain of knowing. Admitting it may alleviate your guilt but you will just transfer the burden onto them.
Post-Break Up
When you end a relationship ties are rarely cut cleanly. Your partner may be angry and want to cause trouble for you or upset and keep ringing you wanting to get back together. Either way you need to be strong and stand your ground. Try your best not to get caught up in any mud slinging and just ignore their attempts to retaliate. If your partner wants you back try to patient and understanding but don't give in to make them feel better. Se with the ex is never a good idea if one of you is still harbouring strong feelings. If you want to remain friends then give it time and let feelings subside before moving on.
Breaking up is never fun and often doesn't run smoothly but by being open, honest and patient you can make the process a whole lot easier.
You might also like...