Mutual Separations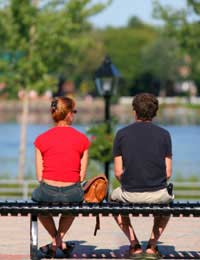 Sometimes no matter how hard you try you can't seem to fix the flaws in your relationship. Deeply held resentments, affairs or simply growing apart can leave you feeling like you have done all that you can. At this point time apart might be needed to get a fresh perspective on the situation and reassess your relationship. Separations are never easy, even when they are mutual, but they can be the best solution to a difficult situation.
Children
Separations are always all the more difficult when there are children involved. When you focus on what is best for them you often push your own needs to the bottom of the list. While, obviously, you need to consider them, you will often find that what is best for you is also best for them. Children are very sensitive to tension in the house and will pick up on any difficulties in your relationship, however discreet you may try to be.
It is important that you and your partner sit down together with your children and explain what is happening. Be as honest as you can and answer any questions they may have. Explain that you both still love them and have full roles in their lives but that in order to be happy you need to live apart.
Who Goes Where
When you have shared a home and then separate it can be a contentious issue to decide who gets to stay and who has to move out. It is easy to point the finger of blame and find all the reasons in the world why it should happen your way but this isn't going to make things run smoothly. As hard as it may be, take a deep breath and try to discuss calmly what should happen. Take a practical look at jobs, income and children to see how you can work it out.
Being Alone
After living with someone the thought of being your own can be very nerve wracking. When you have just been through a painful separation your emotions will be running high and a sense of loneliness is likely to set in. Let yourself mourn the loss of the relationship, be indulgent to your feelings and don't put pressure on yourself to get over it quickly. At the same time, wallowing in self pity is not going to get you anywhere and you need to take control of your life. Make plans to see friends, pamper yourself and take up a new hobby. Fill your time with exciting and interesting pastimes and you will slowly come to terms with your new life and begin to enjoy it.
Trying Again
Once you have had time apart to clear your head and see what you really want you may decide that you want to give the relationship another try. Make an attempt to put past problems behind you and start afresh. If you have not already had counselling then it is a good idea to talk through what went wrong and how to move forward. Communicate openly and be clear about what you want to happen and where you want things to go. Take things slowly and enjoy getting to know each other again. Now you have re-discovered your independence don't be too quick to give it up and go on dates, spend time at each other's houses and have fun.
If your relationship has hit a brick wall and a mutual separation is the only way you can see to fix it then be patient with yourself and your partner. Be honest with your family about what is happening and take time out to reassess your priorities.
You might also like...