Rediscovering Yourself & Being Your Own Person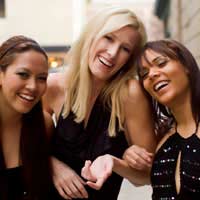 When you have been in a relationship for a while it can sometimes be difficult to see where you end and your partner begins. Obviously you will have many common interests but when you begin to morph into each other you run the risk of losing your own identity. Time with your partner is great but there is no need to give up who you are. After all that's who they fell for in the first place.
Who Are You?
Who are you? It may seem like a silly question but do you know the answer? If you can't remember what you were like before you met your partner then it is time to go and look for that person. What's your favourite food? Where do you like to go on holiday? What's your favourite TV show? Not the one that you say to keep the peace or to make your partner happy, but the one that you would choose if there were only you. It's true that you may have changed since you met your partner and developed new tastes. There is nothing wrong with that, as long as they are genuine and not just to please your partner. What are your values? Do you want 2.4 children and a house in the country? Often we are afraid of losing our partner so change our hopes and dreams to match theirs. This is not the recipe for long term happiness and if you realise that you don't recognise yourself anymore it is time to do some soul searching.
Take Time Out
The best way to be your own person is to spend time away from your partner. This doesn't need to mean playing hard to get or running off to join the circus, just doing things for yourself. When you meet someone special it can be easy to sideline your friends but it is important to keep them in your life. Meet up with them regularly and enjoy doing the things you love, even if they are not on your partner's to do list. Maybe you have always fancied learning a new skill or taking up a hobby. This is a great way to indulge your passion and meet new people. You may think that by spending time apart or enjoying separate activities it will pull you apart but really it will make you a happier, more interesting person and take pressure off your relationship.
Re-discover and Re-invent
When a relationship comes to an end and you are thrust back out into the world alone it can be a very frightening experience. Instead of hiding away though, embrace your new found freedom and use it to re-discover yourself. Did you never eat curry because your partner didn't like it? Order it every night. Do you miss going dancing with your friends? Get out there. Now is the time to indulge yourself and find out who the real you is. Now you are no longer part of a pair you are totally in charge of your life and that can be a liberating feeling. Have you always wanted to go travelling? Go. Have fun. Live your new life.
Being in a relationship and enjoying spending time with your partner is great. However, you don't want to wake up one morning and not recognise the person in the mirror. By keeping your own identity you will bring more to the relationship and lead a fulfilling life.
You might also like...