Taking on a Child in a Relationship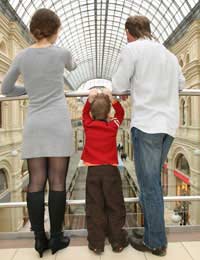 Starting a new relationship can be tricky and confusing in itself but when you start dating someone with a child everything becomes much more complicated. You need approach the situation sensitively and follow your partner's lead on how much to get involved.
Be Honest
If you have just met a fantastic new person then finding out that they have a child can put a spanner in the works. If you don't think this is something that you can take on then you need to be honest about it. The child is never going to disappear out your partner's life and they will always be more important than you. If you decide you want to continue with the relationship then be open about your concerns and get your partner to do the same. By communicating well you will be able to work out what suits you both best as a couple.
Take Your Time
Just because your new partner has a child doesn't mean that you need to rush into settling down and living happily ever after. Take your time to get to know each other and have fun together. If you are eventually going to take on the commitment of a child you need to be sure that your partner is the right person for you. Also don't rush into meeting the child and spending time with them. This will all happen gradually and naturally and you don't want to come into their lives too early only to leave again.
Follow the Leader
When it comes to how to act around your partner's child and when to be introduced them you need to follow your partner's lead. The most important person to them is their child and they will do everything they can to protect them. If that means keeping you at arms length for a while and cancelling arrangements at the last minute then be patient and understanding. You have a right to know how your partner intends to handle the situation and it is fair to ask but don't try to push them or you will be the one give the shove.
Set Boundaries
When you take on a child with your relationship there can be a lot of difficulties to work through. The child may resent their parent's attention being taken away from them, they may try to sabotage your relationship and may show you disrespect. It will take time and commitment to work through these issues and you should expect the support of your partner. Although you will need to be patient with the child and understand why it is hard for them you should not have to put up with bad behaviour. Discuss with your partner what disciplinary power you should have and how involved you will be in decision making. You need to be firm but fair and let the child know that although you are not trying to replace their other parent you will not be disrespected either.
If you are thinking about taking on a child then well done and good luck. It won't be easy and will take a lot of patience, understanding and communication but can lead to a great new life.
You might also like...