Unpopular Partners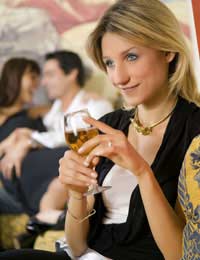 You love them so why can't your friends and family? When your partner is unpopular with the other important people in your life it can be a difficult and tense dilemma. Find out what the problem is and do your best to resolve the situation so you don't find yourself constantly stuck in the middle.
Find Out Why
Why don't they like your partner? When you have fallen for someone it is easy to be blind to their faults however obvious they may be to other people. You need to take an objective look at your partner and ask your friends and family to explain their concerns. It is likely that they only dislike them because they want to protect you. If your partner has cheated on you in the past, been in trouble with the law or has a bad reputation then you can understand why your loved ones are concerned. If it is merely a clash of personalities or personal dislike then you need to get them to work it out between them.
Prove Themselves
If your partner has a bad reputation for any reason then they need to be sensible and understand why your loved ones are concerned about your relationship. Although they may not feel it is fair, your partner is going to have to prove themselves to gain the trust of your friends and family. Talk to your family and friends and ask them to be patient and fair. Explain that you care for this person and that you can see the good in them. Ask them to judge them on their actions and not their past and to give them a fair chance.
Find Common Ground
It may feel like a hard laboured slog but the best way for your partner and loved ones to get along is to find common ground. Do they both like playing golf? Are they fans of the football? Could they go shopping together? Any common interest that they have will help them bond. Neither party may be very enthusiastic about spending time together but explain that it is important to you that they get on. For your sake they need to be willing to make an effort to like each other.
Agree to Disagree
If it gets to the point where you just cannot convince your friends and family to like your partner then you may have to agree to disagree. This is a very difficult situation and may cause a huge divide but follow your beliefs. It is a good idea to seriously think about your friends and family's concerns as they may have a valid point. However, if you are determined to continue the relationship then stick your ground. If you partner encourages you not to see them or speaks badly about them though, that is not a good sign. Your partner should support you and as hard as it may be, continue to try and make peace, for your sake.
It can be heart wrenching when the people you love cannot get on. Try your hardest to find common ground between them and prove your partner's worth. If this doesn't work then ask them to be civil to each other and make an effort not to keep you stuck in the middle.
You might also like...