Handling Financial Worries Together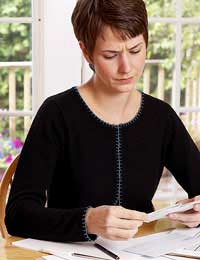 One of the areas that couples fight about most is money. Whether you are arguing about not having enough, who spends what, frittering it away or what to save for, it can be difficult to balance both partners attitudes to this important subject. To handle financial worries together you need to be open and honest about your situation, what you can contribute and how you are willing to change. It is easy to blame each other but this won't help you. You need to work together to find a practical solution and support each other though this stressful time.
Talk Money
As a couple, the worst thing that you can do is to keep your feelings bottled up. If you have a problem you need to talk to your partner about it. Money can be a touchy subject but it is important that you are both honest about your attitudes to spending, what you can contribute and what you think you should focus on. Make a time when you can both sit down together, without children or distractions, and get to the root of your financial problems.
Don't Blame Each Other
Unfortunately, we often take out our anger or frustration on the people that we are closest to. When you are having financial worries it is easy to blame your partner for spending too much, not earning enough or a general lack of responsibility. Playing the blame game is not going to help anyone and you need to try and find a resolution together. Try and both be honest about your contribution to the problem and how you can fix it.
Seek Help
If you are drowning in debt or defaulting on your mortgage then the first thing you should do is seek some professional help. There are many organisations that will help you for free and offer advice on how to dig yourself out of the black hole. Even if your money problems are less serious, it can be worth talking to someone about your situation so they can give a professional opinion on what you should be doing.
Make a Plan
Your financial worries aren't going to go away overnight but as you soon as you take control of the situation, a big weight will be lifted. Work together to create a realistic plan. List all your outgoings and how much money you need to survive and then set a strict budget and stick to it. If you need to take on extra shifts or find another job then start doing it. Talk to your loan companies or debtors about putting together a payment plan.
Whatever you need to do to fix your financial situation, do it together and offer each other support along the way. Arguing and blaming each other will only increase the stress levels and won't actually solve anything. Talk openly about your situation, seek some professional advice and then work as a team to put together a practical plan to move forward with.
You might also like...