Does Having a Baby Change your Relationship?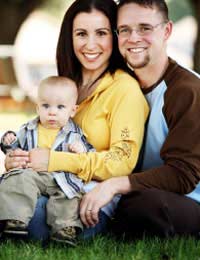 Having a baby is a huge change for any couple and takes a lot of hard work and commitment. If you are considering getting pregnant to 'mend' your relationship then you need to be more realistic. Sleepless nights, hormonal mood swings and a shift in priorities can all put a hug strain on your relationship. It's not all doom and gloom. Having a baby is an amazing, life changing experience but one that you need to enter into with your eyes wide open.
Coping with Pregnancy
Finding out that you are having a baby can be a huge shock and difficult to take in. Pregnancy is a natural, joyful thing but can also be uncomfortable, tiring and scary. As a woman you need to be patient with yourself and your body and not try to push yourself too much. As a partner, you need to offer support and understanding – even when they are being irrational and moody! Read the books, talk to your doctor and be fully informed about the process so that you can savour each moment.
Baby Blues
Post-natal depression is a serious condition that can affect new mothers and it is important to recognise it early on and seek treatment. Even of you are not suffering from depression, the sleepless nights, change of routine and feeling of isolation can make you feel down. Try and talk to your partner about your feelings so they don't become overwhelming. Offer each other support and don't put pressure on yourselves to adapt easily to your new roles as parents.
Making Time for Each Other
With a new baby to look after, spending quality time alone together can be the last thing that you do. Trying to catch a bit of extra sleep or a nice long bath is likely to be higher on your list. However, you need to make time for each other so get a friend or family member to watch the baby, even if just for a few hours, so you can have an adult conversation. Sex can also be an issue but try to be patient and show each other love and affection in other ways until you can feel ready and can make time.
Parenting Styles
You and your partner may have very different ideas on parenting styles. This may be about religion, disciplining, or food choices but you need to be willing to compromise on your opinions. Talk about your beliefs and see if you can work together to come a reasonable agreement. As parents, there will be all sorts of situations that you disagree on butt you need to learn to handle your arguments effectively, for the sake of your children.
Having a baby is no quick fix for a failing relationship. It will affect things with your partner more than any other life change and you need to be prepared for it. Having a baby together is an amazing experience and can lead to a stronger bond but you need to be willing to work through the difficult patches. Talk to each other about your feelings and opinions and try to make time for each other as a couple.
You might also like...
I broke up with baby dady n now in a relationship with a guy who doesnt have a child.he is so close to my son and they spend much time together.baby dady keeps calling and wanting to take the boy from me.he threatens me with taking me to court and lawyers.i often shed a tear when I think of the future,what if my boy leaves us for his real dad when he is older?
tdee
- 18-Jan-13 @ 3:26 PM