The Dos and Don'ts of Dating After a Break-up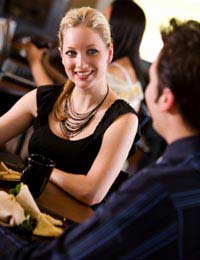 Dating after a divorce or break-up can be a tricky business, especially if you've come out of a long-term relationship. It can be extremely daunting but it is best for you, when you're ready, to get back out there eventually. This guide will help you navigate some of those tricky issues that dating after a divorce or break-up can throw up.
Don't Date on the Rebound
The sting and pain of a break-up can leave you wanting to run straight into the arms of someone else, either to ease the pain of rejection or prove that you're still desirable. However, rebound dating can backfire. You may not be ready and could find yourself upset and confused. Dating on the rebound could also cause heartache to new people that you date and your ex.
Do Wait Until You're Ready
There's no set time for when you can begin dating again and only you will know when you're ready. When you feel emotionally strong enough and over your ex, you can approach dating in an open way. Waiting until you're ready to date again gives you the least chance of being unnecessarily hurt or hurting someone else and the best chance of meeting someone new.
Don't Rake Up the Past
While there's something to be said for being upfront about your past, regaling your new date with a blow-by-blow account of your break-up is unlikely to make for a pleasant evening. Be honest if it comes up in conversation but keep it brief.
Do be Tactful
Even if you know the break-up is for the best, seeing your ex with someone new can be hard and the same goes for them seeing you with a new partner. Lying and sneaking around is hardly likely to help but neither is flaunting things in front of their face. Be tactful and discreet and talk to your ex about things if you feel it's appropriate. Again, be brief!
Don't Feel Guilty
Even if you're the one who broke it off, moving on can be difficult. However, with time it will get easier and you shouldn't feel guilty. Both you and your ex have the right to be happy. Treat your ex and your new dates the way you would want to be treated and you shouldn't need to worry.
Do Have Fun!
Although it can be nerve-wracking, don't forget that dating is, above all, supposed to be FUN! You don't have to take it so seriously or worry about meeting the love of your life. Just enjoy your experiences of dating and see where it takes you.Don't take risks and do be safe
Although dating is fun, don't forget that you must take precautions to protect your safety as well.
Don't invite someone to your home at the start of a first date and it's also unwise to go to theirs – It's safest to meet in public places to begin with
Don't give out personal details until you feel comfortable and have got to know someone
Always tell someone where you'll be at first
Always listen to your gut instincts. If something doesn't feel right it probably isn't
You might also like...