My Experiences of Internet Dating: A Case Study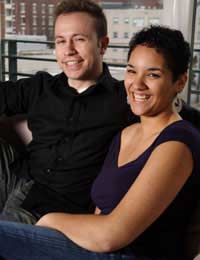 Samantha began online dating earlier this year after the break-up of a long-term relationship. She told Relationshipexpert about her experiences.
"I have to admit I was a little bit sniffy about online dating to begin with. I went speed dating a few years ago and it wasn't really for me. I had a bit of a preconception that online dating was for losers. After a while, though, I decided to give it a go.
"As you get older (I am only 32 mind you!), I think it does get a bit harder to meet people. Lots of people are already in couples and many of my friends are quite settled down so, although we do still go out, it isn't every weekend like it used to be.
"Also, you do get a bit tired of going to bars all the time and meeting drunk men. I am not really enthusiastic about the idea of meeting someone at work (too many complications!) so I decided to give internet dating a go."
Choosing a Site
"Because I was a bit sceptical I started out using a free dating website. I didn't tell many people about it initially as I suppose I was a bit scared of looking daft.
"I found creating a profile a bit tricky as I don't like blowing my own trumpet and it doesn't come naturally to me. I found the best thing was to look round lots of other dating profiles. I realised you don't have to brag or take show-off pictures. I felt comfortable being myself in my profile once I got going and I tweaked it until I was happy with it."
Results
"I was quite surprised actually that I got so many emails straight away, although I do have to admit not all of the potential suitors were really for me. Some, I got the impression were just emailing anyone and everyone. However, I started to have email chats with a few nice blokes and went on dates with two or three.
"The dates were not the start of any great romance but I had fun and it took the fear out of dating for me. I realised that it isn't as scary as I had worried it would be. Also, the fact we had emailed a bit in advance took a little bit of the awkwardness out of the first date, although I accept there will probably always be a bit."
Next Steps
"After a while on the free site, I decided to pay for a site. A few people had told me that they were a bit better. As I already had my profile on the free site, it made the paid site one quite fast to set up. I have to admit the people who I got in touch with through this site were more what I was looking for.
"I even sent a wink first on a few occasions! I have now been out with two people from the site. I have arranged a third date with one of the people and it's going very well, so we will see…
"To anyone considering internet dating, I would say give it a go! It isn't for losers and there are some genuinely eligible people on dating sites. It's fun too – I haven't had so many nights out in years!"
You might also like...