We Got Back Together After Breaking Up: A Case Study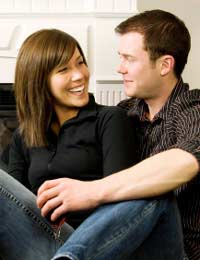 Cara, 32, met James at university and they were together for two years before breaking up. She tells us what happened after that.
I met James on a night out at the start of my second year at university in Newcastle. We were pretty much an item straight away and we were very close. We talked about living together after university but whilst we were at uni we continued to live with our separate friends.
I'm a PA now and I am definitely quite career-driven but as we came towards the end of third year, James started to say that he would have to apply for jobs away from Newcastle if he wanted to get the work and experience he needed – he's a journalist. He was eventually offered a job in Manchester and it was decision time.
Big Decisions
James said he wanted me to go to Manchester with him and although I didn't want to leave Newcastle particularly and new no-one in Manchester, I knew I wanted to be with James and so when we graduated I went. I got some good temping work and James and I found a flat.
It wasn't exactly how I'd pictured us moving in together though…I was working 9 to 5, whilst James was working irregular and very long shifts to try to learn and establish himself. I made a few friends but I felt very alone in a new city and we argued a lot.
In the end, I was so unhappy I decided to go back to Newcastle and we ended things. That was nine years ago in 2001.
Moving On
We were both devastated by breaking up and being in Newcastle was quite hard as well as we had done so much together there. Slowly I started to move on and we agreed not to keep in touch – it would have been too upsetting.
I saw other people but nothing serious and in the back of my mind I always thought about James and I still missed him.
Going Back
In 2008, I was sent to do some training in Manchester. I don't even know why but I decided to text James to see if he wanted to meet up. I think I figured I was as over it as I ever would be and I did miss him.We met in a bar by the river and I felt tearful almost the second I saw him but I hid it. He told me he was still working as a journalist and also dropped the bombshell he was seeing someone from work, but didn't say much more about it.
When it was time to leave I felt sad and I had decided in my head that I couldn't do this 'friends' thing and it was probably the last time we would see each other.
I could see James had something he wanted to say and he suddenly blurted out that he still loved me!
The next day I had to go home but we agreed I would come to Manchester the next weekend and we spoke on the phone loads. I did feel bad about James's girlfriend at work but I knew this was different.
We've been back together now for almost two years. We've had a long distance relationship because I don't want to move back to Manchester and James understands. He is looking for work here now or considering freelancing and then we plan to buy a house.
Things have been better this time because I think we've both been more honest about how we feel.
You might also like...