How to Keep the Romance Alive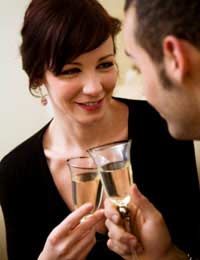 At the beginning of a relationship both parties are trying hard to impress and the romance is flowing. However, once the honeymoon period is over and real life kicks in, romance quickly slips down the to do list. It is important to still make an effort though and not let all romantic actions fall out your relationship. You don't need to buy dozens of roses and champagne to prove your love, small gestures will do. Communicate with your partner, make time for each other and re-live those early days.
Talk, Talk, Talk
The key to any successful relationship is communication and letting each other know what you think and feel. Just sitting down together and having a chat about something that isn't related to work, the home or children will help you get that date atmosphere back. Enjoy each other and remember the fun you used to have. Tell your partner about your most romantic memory or a something special about your relationship that always makes you smile. Explain what you would like to happen now and discuss how you could make it a reality.
Make Time
With work, family and chores, romance tends to get a bit lost and it can be difficult to see how you could fit it in. But it is important to find the time. Once you make it more of a priority you will be surprised how you can make it work. Set aside a particular time when you no other commitments – get a babysitter for the evening, do your shopping online, let the washing up sit for a day – whatever it takes to create that window. It will give you something to look forward to and also put you in the mindset to create a bit of romance.
Small Gestures
Romance doesn't need to be grand gestures and weekends in Paris. It's the little things that count and there are a thousands of quick and inexpensive ways to keep that spark alive. At its core, romance is simply showing that you are thinking about your partner and that they are special to you. Write them a note telling them one thing you love about them, buy their favourite chocolate bar on your way home from work, send them a text saying you love them, pick up a silly gift from the supermarket, run them a bath….there are endless small gestures, try to do one little thing a day.
Plan for Romance
Planning and romance may seem to be mutually exclusive but if you have a busy life then it is necessary. By thinking about when you could do something and what you could do it will be at the forefront of your mind and make it a priority. Planning together not only makes you have a joint goal that you can enjoy and look forward to but helps you communicate and share your thoughts. In the same way that you would schedule a haircut or doctor's appointment, make a date in your diary for a bit of well needed and well deserved romance.
In a long term relationship it is easy to let the romance fall by the wayside but it is important to pick it up again. Forget about the Hollywood movie version and concentrate on the small things you can do at home to bring it alive. Communicate with your partner about what you want and how you can achieve it. Make time for each other and fit small gestures into your everyday life while planning for something special.
You might also like...