Making My Long Distance Relationship Last: A Case Study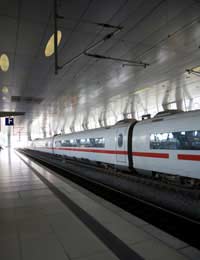 Emma, 28, had a long distance relationship for 2 years before she moved to be with her boyfriend. She says it isn't easy but with commitment. Hard work and a bit of compromise, you can make it work.
"I met Gary on holiday in Ibiza when I was away with my friends. He was so lively and funny he had my attention straight away and I spent the whole night chatting to him. For the rest of the week we spent all our time together but I didn't think about it much further than that because he lived in Scotland and I lived in London. I was gutted when we had to say good bye and I cried all the way to the airport.
"Two days after I got back Gary called me and said he couldn't stop thinking about me. I said I felt the same and he arranged to come and visit me in London. We had an amazing time and I knew it was more than a holiday romance but I was at university and he worked for the family business up in Scotland so neither of us could really move any closer."
Long Distance Love
"We decided that we both wanted to give it a go and worked really hard to make it work. We would email or text each other every day and talk at least three times a week. We made sure that we saw each at least once a month. He would come down to see me, I would go up there or sometimes we would meet in the middle which kept the excitement alive."
Emma says it was really difficult to see all her friends cosying up with their boyfriends but her and Gary would still make their relationship special.
"We used to send each other silly gifts or leave notes for the other one to find when we had left. I think because we had to work harder to make our relationship work we never took each for granted like some other couples do. We would always concentrate on making great memories and spending quality time together when we did get to see each other."
Moving In
"After two years of being hundreds of miles apart, I finally finished my degree and moved up to Scotland. It definitely wasn't easy to make the relationship last for so long but I think we have built a really strong base. It's weird seeing him everyday but in a good way! We try to still surprise each other as we don't want the relationship to go stale but we have worked so hard for it that we are not going to throw it all away easily.
"I think we both respect each other's freedom as well and have no problem with one of us going away as we are used to not seeing each other. I wouldn't want to do long distance again but I know now that our relationship could survive anything."
You might also like...