I Am Much Older Than My Boyfriend: Should His Family Know?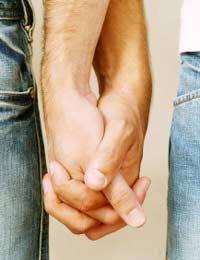 Q.
I'm 19 years older than my boyfriend of three years and my problem is that his mother, family and friends know of me but they are led to believe that we're just platonic friends.
My boyfriend seems very much to want to keep the truth from them all and just live our lives as we have for these past three years.
He says his Mother will lecture him and try to convince him to end it if she finds out about our seeing each other. What should be the answer to this? Is the reaction of family regarding age difference that paramount?
(S.B, 27 February 2009)

A.
Large age gaps in relationships can cause problems – but usually because of the reactions of others rather than the two people involved. You will also find that people are more accepting of a relationship when the man is older, as this is somehow seen as more 'normal'. However, as long as you and your boyfriend are both consenting adults then there is no reason why you should not find love with each other, whatever your ages.
It is understandable that your boyfriend's mum would be wary of your relationship as she is obviously protective of her son and will always be looking out for him. However, having been together for three years already, you have proved that you are not going to use him or treat him badly and have more than proved your worth.
After having been with your boyfriend for so long you have every right to expect him to introduce you formally and proudly to his family. He probably doesn't want to upset her but he needs to stand up to her and be mature enough to treat you with the respect that you deserve.
Sit down with him and explain how you are feeling. Tell him that while you are very happy with your relationship you wish that his family could be part of your lives. He will probably say that it doesn't matter but be clear and firm that it does matter to you. It is his responsibility to buffer this situation and show that he has nothing to hide and is happy for you to be in his life. He needs to explain that both you and his mum are very important in his life and that it would mean a great deal to him if you could all spend time together.
Try to arrange an informal get together, in a neutral location, where you can meet his mum. Once she gets to know you for the person that you are, rather than the image she has built up of you, then it is likely that she will thaw. Your boyfriend needs to take an integral part in this process though, working hard to make you both feel comfortable.
You might also like...
I am older than my husband by 11 years. We have been together for 12 years now and they age difference is negligible. It's only me that is occasionally bothered about it, thinking he may at some point prefer a 'younger model', which sometimes makes me feel insecure. But his family were great about it, right from the start. We have two children, and three dogs. It's a rumbustious happy family.
LuluB
- 23-Sep-15 @ 2:02 PM