My Partner Cheated On Me: How Can Get Over it?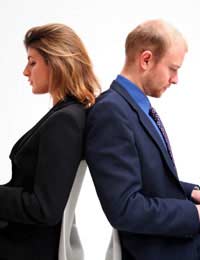 Q.
My partner cheated on me over a year ago and I still can't let it go. I checked his mobile and found a flurry of text messages from a girl he worked with and discovered they'd arranged to meet on his day off. We had our own house together and I questioned him about why he would go behind my back with other girls. When I asked him he promised it never went any further than a few flirty texts. He said he is just like his father and can't resist a woman who shows him a bit of attention.
It's now a year later and we are still together. I fell pregnant with his very unexpected, unplanned child. I have never got over the affair and have become very controlling and insecure which I hate myself for as I was never like this before. He has stuck by me and hasn't been out on his own. I now have his child but can't help thinking 'what is going to stop him from doing it again?' If it only takes a woman to show him a bit of attention? I can't build my life with him like this knowing he could ruin everything again but I love him so so much and want to make it work.
(F.S, 20 April 2009)

A.
When a partner has cheated on you it can be very difficult to regain the trust and move on with your relationship. You feel hurt, angry and scared and are unable to get past the betrayal. However, your relationship can recover and for the sake of yourself, your partner, and your child it is important that you get this issue resolved.
It is unclear whether your partner actually cheated on you or whether you just thought that he had, but either way his behaviour and lack of respect has obviously affected you a lot. All these issues have never had time to be sorted out or for the wounds to heal as you then fell pregnant and added even more pressure to your relationship.
Your partner wants to make your relationship work or he would not still be around but you have got to stop punishing him and yourself for what happened. You need to rebuild the trust and respect between you so that you can have a healthy relationship and set a good example for your child.
To do this you need to start being honest with each other. It may be painful but you need to sit down together and talk about why this happened. Make him answer any questions you still have a bout the affair and let him explain why he felt the need to seek attention elsewhere. This will work best if you seek the help of a counsellor who can help you communicate your feelings.
Once you have approached the past you need to start building your future. Being controlling and insecure will only drive you crazy and him away. Firstly, you need to work on your own confidence and feelings of insecurity. Focus on the positive things about yourself and start believing that you are worth his commitment. Also, you need to have some fun together and put time and effort into enjoying your relationship. Arrange a babysitter once a week and have 'date night', take up a new hobby together or make sure you spend some quality time together at least once a day.
To be happy and have a strong relationship you both need to start living your lives, giving each other freedom and not letting the past rule your future.
You might also like...
My husband is putting wring blames of desertion n chatting with boyfriend on me and seeking divorce. He wants me to give him authority letter to sell our jointly owned house which is on joint home loan. Hes paying emi.I dont want divorce and to sell. Hes putting all false blames on me. Please suggest how i fight for wrong blamez. I haven't got any legal notice yet. I m living in delhi relocated from Bangalore for reason of job with his consent. Hes now telling society that i left house in his absence. Please suggest urgently
Sonu
- 27-Apr-19 @ 10:04 AM
Can I force my wife to sell the house so that I can settle my debts.divorce and rebuild my life. I have built up my monies over the 33 years of our marriage which for many years has been rocky.Our home is in my wife's name but I have a registered interest recorded in the property. My finances from work and inherited funds have paid for the rebuilding and extending of this home. There are high debts to the banks that need settling.and monies owing to my family. Now I need to move on with my life and end the marriage but my wife refuses to sell and I cannot finance any work or develope further. This ongoing situation is driving me to depression. How can I force the sale and repay the banks. ,family and have some funds for myself to start living again.
Sparrow
- 24-Dec-15 @ 9:28 PM