The Secret to a Successful Dating Profile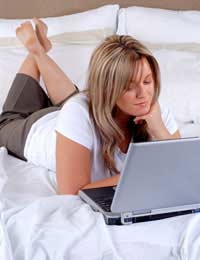 Online dating is more popular than ever before. Many singles have been left increasingly discouraged at finding and meeting a partner at clubs and bars and online dating has emerged as one of the most convenient and preferable choices in finding a potential partner.
With an increasingly bigger pool of singles and possible matches at the click of a button, how can you ensure you have success with your online dating profile?
Photographs
Perhaps the most crucial aspect of any dating profile are your pictures and photographs. Leaving your profile without any image will substantially reduce your chances of success on the site.
It is important that the pictures are, above all else, recent and accurate and roughly portray yourself in a true and honest light. Quite simply the more photographs the better, but anywhere above three images will usually suffice. They say 'a picture is worth a thousand words' and this sentiment is exactly what is required for your dating profile. Showing photographs from your travels will show any potential partners that you are adventurous, thrill seeking and outgoing, whilst too many pictures from a night out could show your enjoyment of the single life too much. Including a unique photo or image such as at the Pyramids in Egypt will make your profile stand out and increase the chances of those visiting your profile staying on your page and remembering you.
Description
Your description is vital in conveying yourself uniquely and helping distinguish yourself from all other singles on each particular dating site.
A dating profile description is your best bet for helping other singles view you as a potential and eligible match. Listing your interests and what you are passionate about will help marry up commonalities and shared interests, which will all point and indicate to a level and degree of compatibility. A sense of caution needs to be used here. For example, single females listing shopping as a hobby or interest, and single males listing football as an interest or activity will likely be forgotten and glossed over by many matches who will look through countless profiles in one sitting that will usually murmur the same things. Stating something more unusual in your interests such as drawing or singing for example will help separate your dating profile from the rest. If you are struggling for more engaging and interesting activities to list then you could choose to say you are looking to take up a particular activity, such as dancing and are looking for a partner or someone interested in this.
Descriptions however, can and should go much further than merely providing a list of your interests. With a properly crafted description you can interweave humour. Single men and single women both point to humour being an important characteristic they look for in the opposite sex and your description is the best chance of illustrating that point.
The length of a description is also important. Too long or 'essay-like' and those visiting your profile will switch off, too short and you leave no hooks in which to intrigue and captivate any potential matches.Profiles missing a description just like imagery will likely have a lower success rate than those that include one.
Intent
The intent of a profile is also significantly correlated to the success of online matchmaking. Many singles actively look for someone who is after and looking for something similar to what they are seeking. Many online dating websites now display intent in a variety of ways and this can also be underlined by the description too. Put simply someone who is putting serious effort into looking for a relationship or something serious will more likely choose someone who is seeking something similar, as opposed to someone who is hankering for something more casual.
Online dating is more popular than ever and working your dating profile correctly can dramatically improve your chances of success in finding your ideal partner and perfect match.
About the Author
Matt Hughes is a dating expert based in the UK; he has worked in matchmaking for a number of years and currently works for Lovestruck.com in London.
You might also like...