Taming Your Bad Boy: Advice for 'Bliss Magazine'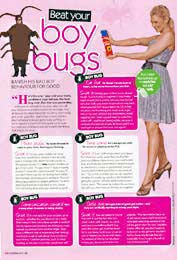 Here at Relationship Expert our teenage daughters and nieces (us too, if we're honest) are all keen readers of 'Bliss' magazine. So we were delighted to help them out when they asked us for some advice on how to banish bad boy behaviour for good!
Here's what we said:
Time Crime
Boy Bug: He's always out with his mates or playing on his PS3.
Sure both of you need your space. But when he's so far away that you feel like you're in a different time zone you need to talk. Boys aren't always aware they're neglecting you, so whether it's a mate or a boyfriend, you just have to tell him that you'd like to see more of him.
Relationship Expert.co.uk "Try to find activities you can do together, whether it's studying, watching football, or going for a pizza," advises Relationship Expert, Emma Jones. "the more he realises he can have fun with you the more you'll hang out together"
Communication Coward
Boy Bug: He's a wuss when it comes to being slushy
It's not easy for guys to open up to anyone - whether it's you, his mum or a mate. That's why it's best not to bowl straight in and tell him his suppressed emotions are driving you mad. Instead, try seeing it from another angle.
RelationshipExpert.co.uk "Boys have a different way of expressing their feelings and find it tough to talk about their emotions" says Emma. "Look for gestures, such as hand holding, as this says more than words ever will."
Girlie Guy
Boy Bug: He's got a lot of good girl mates - and they are seriously starting to cramp your style.
You can pretend you're fine with it but the fact that he's good mates with Jo, Stacey, Laura and Lucy is something that will bug even the sanest girl. The worst bit is, you know he'd never cheat on you or neglect you to be with them. SO instead of letting the situation irritate you, be proud that he's so popular.
RelationshipExpert.co.uk "The fact that he has a lot of girl mates means he'll be more in tune with what they want and this will be good news for you" explains Emma. "After all, you don't want to be known as the girl who wouldn't let him have any female friends - especially if you've got a bunch of boy mates yourself"
You might also like...
Well, i am going out with this guy and he is sooo not frigid and wants to kiss, hug, snogg and everything but i am really nervous! What should i do? =@
LoveMonkey101
- 9-May-11 @ 9:19 PM