Top Ten Romance Tips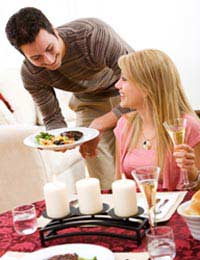 Sometimes in long-term relationships romance wanes. If you want to keep the romance alive, it's often the small things that count but you need to be on your toes to think up new ideas and make a concerted effort to show your love.
Here are a few ideas for romantic gestures that will help keep the spark alive.
Have a Romantic Dinner
Turn a midweek tea in front of the telly into a romantic occasion. You don't even have to cook anything special, just wear something nice, set the table with candles and turn the TV off. Already you've turned an ordinary evening into something special and you'll have chance to chat together as a couple.
Schedule Date Night
Have a regular evening or afternoon which is dedicated to you and your partner spending time together. You don't necessarily need money to go out and do things for this to work either. Watch a film, play board games at home or go for a walk. What matters is that your attention is fully on each other.
Be Thoughtful
Let your partner know that you're thinking of them. You could send a mid-afternoon text message to lift their day or slip a romantic note in their sandwich box (provided you don't think it will embarrass them at work!). You could leave notes around the house or take a picture of something you've seen that makes you think of them.
Cut Work Talk
Although it's good to share problems, constantly moaning to each other about work woes can be a serious romance killer. Allocate a set period for talking about work or alternatively a set time when work can't be talked about. You'll soon find yourselves talking about other things instead like you did when you first met.
Send a Love Letter
Send your partner an old-fashioned love letter (or an email if you insist!). It doesn't have to be sloppy or cheesy but it shows you've taken the time to think of them.
Do Something Nice
Do a nice thing purely for your loved one, even if you don't really fancy it. This might be anything from accompanying them to see a film that's not exactly your cup of tea or doing a chore you dislike so they don't have to.
Musical Romance
Make a mixtape, CD or online playlist especially for your partner. Choose songs you know they will love and that have meaning. You could play the songs while you eat dinner or relax one night – you could even have a dance together.
Spruce up the Home
Drab, messy surroundings aren't conducive to romance. Make the surroundings clean and calm for you and your partner. You could even make a special effort one evening with flowers or balloons, for example.
Plan a Surprise Trip
Take your partner somewhere new as a surprise. This doesn't have to cost a lot of money if you can't afford a proper holiday. Plan a day at the beach or in the countryside, or visit a museum with an exhibition you know they'll like.
Say I Love You
Don't forget to tell your partner regularly that you love them.
You might also like...