Ways to Save Your Marriage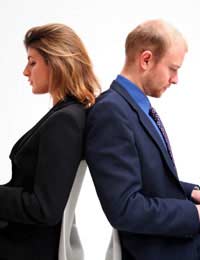 Let's say 'congratulations!' – You've taken the first step in saving your marriage by reading this article. As with many difficult issues in life, the first step is usually admitting there is a problem. You cannot solve a problem unless you identify a problem in the first place.
Many couples go through a difficult time in their marriage. These times can often go hand in hand with another issue in their lives – perhaps the birth of a child, the death of a parent, moving house, changing jobs…the list is, unfortunately, endless. The skill to handling these difficult times is to realise that there is not necessarily a problem with the relationship between you and your spouse, more that life is throwing you a curve ball and you have to catch it.
Identify the Problem
So, if you and your partner are having a difficult time in your relationship at the moment, look at what else is going on in your lives. It can be too easy to blame each other, rather than look at the fact that you have just been made redundant or that your elderly mother requires additional care.
However, it is not always the case that there is an additional, outside reason for the problems in your relationship. If the problems you are having stem from an issue such as an affair, you need to seek professional marriage counselling so that you can talk through the problems in a proper setting. Many couples do find they are able to move on after such an issue, but not without help.
Change your Routine
Many couples split up because life seems to get in the way of their relationship. It is often no one persons fault, but a general lack of focus on the success of the relationship. Be careful not to let the day to day aspects of live overtake your relationship – think about how you were when you first got together. Making time to see each other, going out for dinner and making an effort with your appearance. If you have let any of these things slide, it can seem as though your relationship with your partner is less important that your relationship with your colleagues or friends.
Make time to make each other feel special. It may seem like a small detail, but actions such as making their favourite meal, or putting a little note in their packed lunch (not 'buy milk', something a little more romantic, please) can make all the difference.
Ask For Help
If you feel as though your love has faded too far to be able to save your marriage by simply having a weekend away and making their favourite dinner once in a while, you need to ask for some professional help. There is plenty of therapy and advice available to suit your needs and your characters. You may be happy to go to your GP as the first port of call, but many people would prefer to keep their marriage issues separate. Look in your Yellow Pages and find the nearest Relate counsellor. They are professionally trained relationship advisors who have experienced a lot of life.
Although many marriages fail, many more succeed. A perfect marriage is not one that never has any problems, but rather one which knows how to handle them.
You might also like...