Dealing with Obsessive Ex-Partners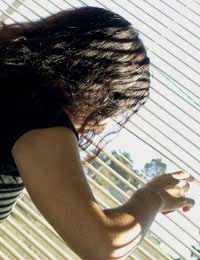 When a relationship breaks down some people can find it very hard to move on, especially if they had not wanted the relationship to end. While the odd pining love letter or pleading phone call can be annoying to the person that ended the relationship and perhaps upsetting for the other person, when the behaviour becomes more aggressive or demanding, additional help is required.
It is important to be able to distinguish between the behaviour of an ex-partner who is just going through the natural process of an emotional break up and the destructive behaviour of an obsessive ex-partner. To be able to determine which category your ex-partner fits into, you need to ask yourself if you feel intimidated by their behaviour. Unless you are overly sensitive, or have additional emotional issues that do not allow you to enjoy normal, healthy relationships, the 'intimidation question' is an important benchmark.
The Intimidation Question
Women's magazines love to give out emotional advice that may sound like the right thing to do, but, in practise, may be totally over the top. What you would actually do in a situation is often a far more diluted approach than the magazines would suggest. Rather than leap in and say that your ex-partner is obsessive, think about what they are doing and how they are making you feel. Think about this in real terms, rather than what you think you should feel – this is your issue and it is for you to feel comfortable with the resolution. While it is important to ask for advice from third parties – friends, family and counsellors – it is your true opinion that counts the most. You did love this person once, so tread carefully.
If you feel that any of your ex-partner's behaviour is making you feel intimidated in any way, then you need to take this matter seriously and decide on a course of action.
Set Boundaries
Once you have confirmed to yourself that you are not comfortable with your ex-partner's behaviour, you need to think about setting some boundaries. These boundaries relate to what behaviour is and is not acceptable, in your view. It does not matter if this is not the view of people around you, although it is helpful if you have the support of your friends and family, as long as you are sure that this is how you feel.
The boundaries you can set need to relate to the current behaviour of your ex-partner. If, for example, they often call you late at night after they have been drinking, do not pick up the phone. The more you engage in a conversation, regardless of the outcome of that conversation, the more you are allowing that behaviour to continue. This is what psychologist call 'enabling', as your behaviour is enabling the other person to continue with their negative behaviour.
When you set boundaries, stick to them. No late night texts or quick drink 'to talk'. The more you show that you are not prepared to enable their behaviour, the more likely they are to get bored and stop. You can either tell your ex-partner of your new rules, or just behave that way. Sometimes spelling out 'rules' can have a negative effect and make you look childish. Just change your enabling behaviour.
Talk to Friends and Family
Having someone you trust to talk to is a very important part of dealing with an obsessive ex-partner. A major problem for those in this situation is the feelings of isolation and lack of communication that can be manipulated by the ex-partner. On-line forums and social networking sites can be a useful source of support, but a non-judgemental friend can be invaluable. If you feel as though you can trust them to not gossip about your predicament, confiding in a good friend or member of your family can allow you to get another perspective on this difficult situation.
You might also like...
My ex has got a very strong case of obsessive ex syndrom.. we have in a relation for two years and all the time he tried to intimidate me, I kept quiet and tolerated him cause I loved him. He criticized my friends and family, he never allowed me to go out with them, though my family didn't know anything about him, he said bad thingss about them and disrespected them,I tolerared all of it, even if I got out with my family he would call me names and used slang language. He is five years older than me and I am only 19. He restricted me from meeting my friends as he disliked them, he never let me talk to a guy and I never did, whenever we fought he would go to my friends and got me back. Somehow after two years I gained enough courage to break up with him and show my reasons, I blocked him from my phone and every social media, he went balistic, he annoyed the hell out of my friends to make me talk to him, but I didn't, he spread rumors about me to my friends, at last he got bery very mad he called my home, since I am from a middle class family having a boyfriend is not allowed if my parents knew I am engaged in a relationship like this they would marry me off and never see my face again, my father had a heart stroke two days before he called my home at one o'clock at night, my father and mother got suspicious but they trusted me enough to let go,my ex kept threatening me that he will show my mom our pictures and tell her everything, my friends told him my father was ill, he said he doesn't care aboit mu father its not his business if my father got two more strokes, he just wants me back anyhow, he told me he will disgrace me infront of the whole neighbourhood if I don't agree to talk to him or get back, then one day with two of my friends in line I talked to him and he kept challenging me that he will never let me go this easy and marry me and ruin my life.. I am in deep trouble I don't know what to do.. please be kind enough to help me and make me obliged thereby.
raisa
- 14-Dec-15 @ 10:32 AM
simerob - Your Question:
My ex wife has a new partner who has recently moved in with her and my two young children.I have a good relationship with my kids and see them as much as possible.Im wary of her new partner. I'm worried he will prevent me seeing my kids.
---
Our Response:
I am sorry to hear you have had a breakdown in communication with your ex's current partner. It sounds like a bit of an 'alpha male' syndrome and while you say you feel helpless because it feels as though he has taken on your role, likewise, he may invariably feel he has to live in the shadow of you, their real father and his current partner's ex. Therefore, he may feel threatened also. It sounds as though you are taking the right approach, and while sometimes we have to bite our tongue in order to keep an amicable relationship, we also don't want to seem as though we are a push over. How do you cope with the emotions and fear – because that's exactly what it is – that your children might end up calling another man dad? A lot depends on the bond you have with your children. If it's strong and secure, you really have no need to worry. In their minds you will always be their father, even if someone else sees a lot more of them than you. Of course, it can be hard to remember and hold on to that, and the only thing that can make you feel better is time. Try not to show any jealousy, even if it's inside and try not to feel to threatened, since, in all likelihood, there's no reason and fighting fire with fire is very counter-productive. This is still an early-days relationship which will have its teething problems as each of you adjust. The main objective is to try to maintain a healthy relationship all-round. Perhaps, if you sit down and have a chat with your ex's new partner over a pint, you may be able to establish that you are not a threat to one another and are both working to create healthy relationships with your children. It's worth a thought.
RelationshipExpert
- 10-Sep-15 @ 11:37 AM
My ex wife has a new partner who has recently moved in with her and my two young children.I have a good relationship with my kids and see them as much as possible.Im wary of her new partner. I'm worried he will prevent me seeing my kids.The other day I went to watch my son play rugby. the new partner was also present with my ex and accused me of waking him up early (when I wanted to speak with my son as he phoned me up upset,so I contacted him back to console him) I placed my hand out to shake his hand to say hi and be polite.He immediately refused to shake my hand and said "I'm not shaking your hand,you woke me up!come over here i want a word with you",I immediately took this as a threat , he was also intimidating!I then took a deep breath and said in a firm but polite manner"How dare you speak to me like this,I phoned because I wanted to speak with my ex wifeof my sons welfare ".He then backed off.I ultimately fear that the new partner is a bully!I don't know what to do!I want to maintain a reasonable relationship with my ex for the sake of my children.I don't feel,I can trust the new partner.Hes taken onmy role and I feel helpless.I think he's taking advantage of his new status!Showing his mark living a more exuberant lifestyle!
simerob
- 9-Sep-15 @ 6:12 AM
My boyfriend's ex girlfriend likes to text him almost every month.no matter how much the guy tries to tell her to stop it,she keeps pushing.i cant take it anymore because it is causing chaos between us.i trust my man and his decisions,but will she ever get over him?my boyfriend has decided to change contact details to block her way.we love each other,but she's a threat to our relationship.i need guidance
tdee
- 18-Jan-13 @ 3:08 PM
My partner has a child with his ex, his ex has given me HELL for 7 years since we got together, she used to send texts to me, full fo lies, She even used to send photos of her private parts to him, begging him to choose her over me. This has upset me greatly, I blame my partner for not dealing with the situation properly and I think we will split up, she has calmed down a bit but sends cards full fo kisses etc to him. I am so depressed about it, she has ruined everything between us.
PeeWee
- 17-Oct-11 @ 6:22 PM