Dating After Divorce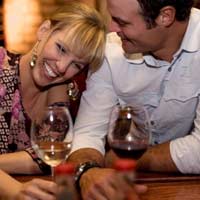 Meeting potential new romantic partners after divorce, or the break-up of a long-term relationship, can be a daunting experience. For some people it may have been a long time since they found themselves in such an openly intimate situation with someone of the opposite sex. This can unleash feelings of vulnerability that impact on self-confidence and self-esteem so it is important to explore how ready you really are before attempting to get back into the dating game.
Are You Ready?
Men and women will both experience levels of emotional trauma after divorce or the end of a long-term relationship. They may also experience feelings of inadequacy, low self-esteem and self-confidence, loneliness, panic and self-sabotage. For many people thinking about creating close relationships with new people can simply be overwhelming.
It is important to accept that you may not be ready to meet someone new even if your friends think you are. Allowing someone new into your life requires that you are open to sharing personal information and this can make some individuals feel particularly vulnerable. To hide these feelings of discomfort men and women will often lie to themselves and this creates a certain level of acceptable delusion that enables them to put on a brave face in the company of others.
Accepting that it may take you longer, than it takes other people, to get back into a social scene will enable you to release the pressure that induces feelings of vulnerability.
Mr and Ms Right
Once you feel ready to widen your emotional life and social circle it is important to explore what it is you are looking for from a new relationship. Are you looking to date casually? Or are you interested in finding that special someone? Without honestly exploring your needs and desires you are potentially setting yourself up for an experience you may not be ready for.
Many newly single people launch themselves straight into the dating game only to become disappointed and despondent after meeting a few people. This is usually because your values and needs were not the same as those of the romantic potential. In order to avoid wasting your time and other people's it requires that you are honest about the type of person and relationship or encounter that you are hoping to experience.
Dating Pitfalls
As unpleasant as it sounds the reality is that the dating scene is full of men and women who have all manner of personal experiences, issues, problems and requirements, and not all of them are who or what they appear to be. Many newly single people are so not through choice and sometimes this internalised anger of rejection will be reflected in behaviour patterns. Many hopeful daters will find they meet individuals who are not honest about their relationship wants and needs, or their single status. Experiences like this can seriously knock the confidence of anyone who is just dipping their toe back into the water after divorce or break-up.
When getting to know someone new, or arranging to meet, it is essential that you trust your intuition or gut feeling. Listening to what your body is telling you will keep you safe and help you gain a better understanding of human behaviour patterns.
Dating Options
If you are looking to meet members of the opposite sex, outside of your usual social circles, there is a wide variety of dating and organised
networking event
s that you can attend where you are under no obligation to interact if you do not feel comfortable. Dating, and friendship, websites allow you to spend time getting to know someone at a pace that is comfortable for you. Emails are exchanged between potential daters and you decide if you would like to meet in person at a venue that is mutually acceptable.
If you prefer to be introduced, or do not want to spend time getting to know someone via email exchange, an organised dating event may be more suitable for your needs. This type of social engagement usually takes place in a restaurant or bar and there will be a group of men and women to interact with. Networking events, that perhaps are focused on the type of work that you do or common interests, also provide an excellent opportunity to get to know new people at a gentle pace. After all dating should be an experience and not a competition.
Law of Attraction
If you are happy to wait for the perfect partner for you to show up in your life employing the Law of Attraction is worth a go. For this to work you must be honest about what you would like in a perfect partner – eye colour, height, occupation, likes and dislikes, children, location etc – your list must be as detailed as possible. Write it all down and read it out so that your wish can be heard and granted. Be prepared for however long it takes for your arrival, and sometimes this could take longer than you anticipated. Trust however that he/she will arrive at the perfect time.
You might also like...