Rebound Relationships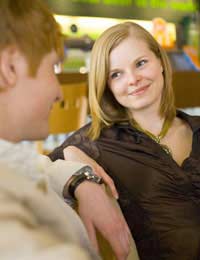 When you go through a break up it can be tempting to run into the arms of the first person you see just to feel wanted and loved again. However if you don't give yourself time to heal you may find the cycle repeating itself.
Take Your Time
Falling out of one relationship straight into another is usually a recipe for disaster. You need to give yourself time to process your emotions and deal with what went wrong before being consumed by a new rebound relationship. You may think it will help you forget your ex but it is more likely to complicate things and leave your feelings dormant and ready to rise at a later date. If you meet someone you really like straight after a relationship ends then explain the situation and give yourself time to get to know each other as friends while you heal. It may feel frustrating but will much better for your new relationship in the long run.
Do it for the Right Reasons
Just because your ex cheated on you or has a new partner is not a good reason to start a rebound relationship. Similarly if you want to do it to boost your ego or to stop feeling lonely then it is not the right move. When a relationship fails it is easy to feel all of these emotions and finding someone new can seem like the quick fix that you need. It is not fair on them or yourself though. Have fun, enjoy being single and learn to be a fulfilled person on your own before you look for a new relationship.
Discover Who You Are
When you are in a relationship it can be easy to begin to morph into your partner. You spend time doing what they like to do, watch the movies they like and forget what your interests were before you got together. If you come out of this relationship and straight into another one then you are in danger of forgetting who you really are. You will have a much stronger and stable relationship if you are a happy, confident individual who has their own interests and identity. Before you find a new partner discover what makes you happy. Have a movie marathon, go on holiday, start a new hobby or spend time with your friends. Having your own life will make you much more desirable and make you much happier in your next relationship.
Be Honest
If you do find somebody that you really like when you have just come out of another relationship then be honest with them. Explain that you are on the rebound but that you don't want to miss this opportunity. If they are worth pursuing then they will agree to take things slowly and be patient with you. While you don't want to bore them with stories of your ex, make it clear how you feel and that you need to process your emotions. Being honest with them is the only way to give the new relationship a fighting chance.
Rebound relationships are set up to fail but if you are honest with yourself and your new partner and are doing it for the right reasons then there is a good chance that you can make it work.
You might also like...