Stages of a Relationship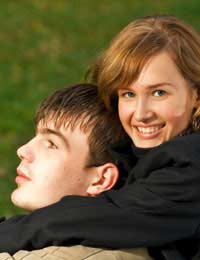 When you first meet someone you float along with your head in the clouds as if they are the most wonderful person in the world. As you get to know them these delusions fade and somewhere along the way real life takes over. However as your relationship matures and changes you create new bonds and experiences that may be not be the same as those first heady months but are no less special.
Honeymoon Faze
You spend your days wondering how you have been so lucky and gushing to your friends about your new found romance. The world seems brighter and life is perfect. There is nothing you would rather do than spend time with your partner and it doesn't seem like these feelings will ever end. This stage usually lasts anything from a couple of months up to two years before reality begins to kick in.
Reality Kicks In
Suddenly all those unique traits that you found so appealing annoy you all the time. You begin to wonder where that perfect specimen disappeared to and how you didn't notice that your partner is pretty normal. Everybody goes through this stage and it doesn't mean that anyone has changed just that you have come back down to earth. You are likely to argue in this stage as you establish if you can really live with all your partner's flaws and them with yours. You need to communicate and work hard together. Nobody is perfect and if you can never get through this stage in a relationship then you won't reach the really good stuff.
Building Roots
Once you have made headway with learning to accept each other for who you are, not who you want them to be then you will begin to build roots. Whether this is moving in together or getting married, you are showing long term commitment to the relationship. There will still be arguments but you will have built a deeper understanding of who you are both are and how your relationship functions. It can feel like some of the magic is lost when you start facing practical everyday issues so you need to make an effort to keep it alive. Continue to go on dates, make romantic gestures and don't take each other for granted.
Family Life
Once you have secured your relationship it may be time to add to it. Starting a family is a very exciting time but means there are a lot of changes and issues you haven't dealt with before. You need to learn the ropes together and be patient and understanding. Your sex life will no doubt suffer and you may find it hard to spend time alone. Surround yourself with a strong support network and make it a priority to spend time with each other. Don't' make the children the sole focus of your relationship as there is more to you both than just being mummy and daddy.
Empty Nest
Once your children have left home you may feel a huge void. You have had so many years of focusing on them that it can be difficult to know what to do. Use the time to get to know your partner again. Take up new hobbies together, go travelling and learn to re-connect. It can be like entering the honeymoon faze all over again.
Like life, relationships go through stages. The loss of excitement and romance leads onto a deeper understanding and greater bond. You need to nurture your relationship though as the trouble starts when you begin to take it for granted.
You might also like...