Exploring Casual Relationships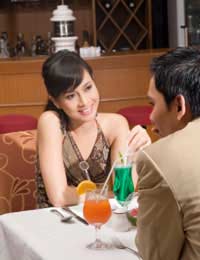 A casual relationship is a connection between two people that is generally short-lived, non-demanding and has no commitment or deep involvement attached to it. How the individuals involved in this exchange see this relationship may vary considerably. One person may view it as a means of identifying what it is they seek in a relationship and from another person. The other individual however, may simply view it as a means to enjoying a social life, with the possibility of sexual exploration attached.
Types of Casual Relationship
Often a man or a woman will consider exploring casual relationships as a way to fill in time before the 'right' person shows up. A casual relationship can be anything from a one-night stand sexual experience to a complicated extended and on-going situation that involves sex but no commitment in a traditional relationship sense. A casual relationship can also be time spent with one or multiple people where companionship is sought but there is no bedroom activity.
Is Casual Dating Right for You?
Casual dating is generally considered the first port of call for individuals who have come out of a long-term relationship or marriage and are looking to explore socialising with the opposite sex before embarking on another long-term relationship. However, the term casual dating and relationships is also used to describe extra-marital or relationship based activity between someone in a relationship and another person, who may or may not also be in a relationship.
To explore a casual relationship, without the heartache and trauma that is sometimes attached to this experience, it is important to be clear on what it is you are looking for and how you are hoping to find it. As a newly single person it may be tempting to just go for it, when it comes to spending time with the opposite sex. However, not taking the time to understand your own needs will present you with situations you may not feel comfort with so it is wise to have realistic expectations and to be honest with yourself about your needs and wants.
How to Find a Casual Date
For those seeking to explore a connection with a new person there are many ways to engage with a variety of different people. Modern day dating no longer requires a personal introduction. Shared activity, social groups and internet dating are just a few of the ways in which social contacts and connections can be easily made. A shared activity like dancing, for instance, can potentially bring you into contact with suitable dates and connections. The popularity of internet dating continues to grow because for a lot of people this option allows for a certain amount of anonymity which initially removes the fear of potential rejection and the sharing of vulnerability.
For many people a casual relationship is all they are capable of exploring, particularly after experiencing the break-up of a long-term relationship or marriage. What is important in any situation or type of relationship is honesty and truth. If you are not looking for a committed relationship it is important to let all interested parties know this on initial contact or meeting. This openness avoids unnecessary confusion and allows both parties to explore the relationship from the same starting point with the same eventuality in mind.
It is also important to understand that any relationship that is termed casual means just that – something that is temporary and non-committed and just fun while it lasts.
Creating a Dynamic First Impression
Assuming you have decided that a casual, non-committed relationship is exactly right for you to explore you will now wish to create the best first impression possible. Regardless of how long a relationship may last a man or woman will still wish to be considered a likeable person. The impression you make, whether it is in person for via the internet, will play an important part in attracting the type of person and casual experience you may be hoping to explore.
A potential date/partner will make the 'go' or 'no go' decision within seconds of connecting with another person. This is the same for a face-to-face meeting or for an internet exchange that is facilitated through email or instant message exchange. The way you present yourself to the other sex will determine the type of response you receive and how a casual relationship may or may not develop. For instance, if you over-project a shy, vulnerable side you will potentially attract people who may wish to exploit this side of your personality. If on the other hand your persona is too direct and over confident you may find that people find you unapproachable.
Getting the balance right in what you wish to project, and what you would like to save for exploring later on, is essential in helping you create a positive first impression.
You might also like...