Meeting Your Boyfriends Parents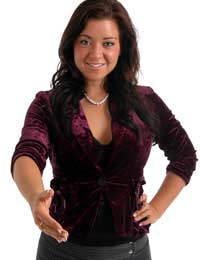 This is, of course, an entirely different kettle of fish to meeting your boyfriend's friends or work mates.
If you really like this chap and are keen to get more serious, it is worth putting some time into preparing to meet his parents. Whether you date for a while or end up together forever, first impressions really do count and it can make a big difference to your relationship.
So, how does the meeting come about? Maybe your boyfriend has already suggested this to you and is keen, or his parents have been pestering him for ages to be introduced. You may possibly be feeling as though your relationship can't get more serious until you've met his family. Understanding why and in what circumstances you are meeting is key to the preparation.
A New Relationship
If your relationship is still quite new and you have been invited for coffee or dinner, you are likely to be welcomed and enjoy a relatively stress free meeting. In this case, wear a casual yet smart outfit and not too much make up. A pair of tailored trousers, smart jeans and a pretty top (not low cut or tarty) will be perfect. Take a decent bottle of wine or some biscuits with you. When you meet them, offer a firm handshake and say that it's lovely to meet them. Comment positively on their home or photographs they have displayed. Be careful not to be a total creep, but you can be polite and friendly.
Getting Serious
If you and your boyfriend have been together a while and it really is about time you met his folks, you could suggest going for an early supper somewhere convenient for you all, or even, if you're really brave, invite them to your house. It is important to be confident and open, as his parents will already have their own opinions of you. Welcome them into your home and make sure you have checked if they have any particular food and drinks likes or dislikes. Be careful not to be over tactile with your boyfriend in front of them, although don't feel as though you have to act like strangers. The conversation will inevitably be 'so pleased to meet you at last' and such like, so you can say that you are all so busy but that you have been looking forward to meeting them for a while.
Why Doesn't He Want You to Meet His Parents?
If you are meeting your boyfriends parents because you have been together for ages and are keen to have a feeling of commitment or security, be careful. If you have had to push for the meeting, there may be other reasons for your boyfriends delaying tactics. Perhaps they are very difficult company or will disapprove of you. Perhaps your boyfriend is not as serious as you are about the relationship. It may just be that he does not consider it important for you to meet them. Whatever the reason, it does not really bode well for a good occasion and anyway, once you meet them, you will be no more likely to gain the commitment you crave and you may simply succeed in pushing him away. So unless there is a really good reason for his hesitation, you could look a little deeper at your relationship.
You might also like...
i am 12 going on 13 and i dont know what to wear i havent got time to go shopping because it is only tmoz i need Help!
lils
- 4-Nov-11 @ 9:10 PM