The Dating Etiquette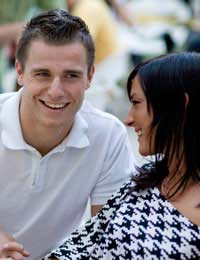 In this day and age, many of the traditional dating rules, such as the man always doing the asking, are out of the window. However, if you've been out of the dating loop for a while or just feel a bit uncertain, here are some general dating etiquette guidelines to keep you on the right track.
Who Asks?
These days: who cares? It is now completely acceptable for a woman to ask a man out first, although some women are still unsure about it.
If you feel terrified of asking someone out (remember that most people are nervous), ask them if they fancy meeting up for a coffee or a trip to the cinema first. A more casual setting takes the pressure off a bit (as opposed to a candlelit dinner!) and you can see how things develop from there.
Who Pays?
Gone are the days when the man has to pay on dates, although in many cases they still feel they should. Going Dutch (splitting the cost in half) is now well accepted and the procedure many feel most comfortable with. Others feel that the person who does the inviting should pay.
If in doubt, play it by ear. Offer to pay half but do not insist to the point of awkwardness if your date wants to pay. You can always pay for drinks later or offer to pay on the next date to keep things fair.
What if I Change My Mind?
If you decide you don't want to honour a date after you have agreed, ask yourself 'why'? If it is because of fear or nerves, push through and go on the date - nothing ventured, nothing gained.
If you have just changed your mind and genuinely don't want to go, you must tell your date in good time. Don't just stand someone up – it's extremely impolite and hurtful. Imagine how you would feel.
Similarly, if you're not enjoying the date, don't just leave. Climbing out of the toilet window might be funny on TV shows and present a good anecdote opportunity; in real life it's very rude and selfish. If you want to leave early, it's entirely your right but you should make your excuses rather than leaving your date high and dry wondering whether you'll come back.
After the Date
Who should text first? How soon should you phone? Who should suggest the next date? It's a minefield!
Why not take a fresh approach and do what you feel? If you feel like texting to say you had a great time as soon as you get home, why not do so? If you're less sure, wait and see what happens.
Dating can seem like a confusing world of smoke and mirrors where every move you make (or don't make!) risks offending someone or jeopardising your chances of love. However, look at it another way - if you go into a potential relationship as your true self, being open and honest, things are most likely to work out for the best in the long run, whether that means finding a long-term partner or being single again while you wait for Mr or Miss Right. Just be fair and polite. If in doubt, consider how you would like to be treated.
You might also like...