Tips for Creating an Online Dating Profile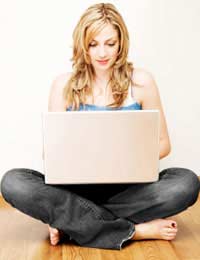 If you've decided to give online dating a go, you'll need to create a profile. The fact is that the better your profile is, the greater your chances of meeting more people. Creating a good dating profile doesn't mean bending the truth; it is about creating a profile that draws attention to your best attributes and qualities.
Dating Profile Questionnaires
Firstly, you'll probably be asked to fill in a questionnaire asking you questions about facts such as your hair colour, age and profession, as well as questions about what you're looking for in a partner.
It is best to be as honest as you possibly can in these questions – there is no point in saying you're a six-foot blonde if you're a petite redhead!
Uploading your Dating Profile Photo
Choose a photo which shows you at your best. Ask a friend to help you choose one from those you already have or to take a brand new one.
Even if you're shy about showing your picture or feel that you don't want to be judged on your looks alone, the fact is that people are around 15 times more likely to click on your profile if there is a photo to accompany it.
The best shots to choose/take are fairly close-up head shots so that people can see your face clearly. Smile and be positive and don't be afraid to add a quirky shot if this reflects your personality. Some dating sites allow you to upload a few different pictures.
Do your Research
The best way to find out what you want your profile to say is to read lots of other profiles – of both men and women. Which profiles do you like? Which ones make your cringe? Which ones do you suspect get the most emails and why?
Look out for clichés too to make sure your profile isn't saying the exact same thing as all the others.
Write Well
Use good English in your dating profile! You'll struggle to be taken seriously as "smart and intelligent" if you can't spell or string a coherent sentence together. Get someone to give your profile a quick proofread before it goes live.
Be Clear and Honest
Be honest in your profile about who you are and what you're looking for. Don't say you're a film buff if you're not and if you're definitely looking for a non-smoker say so (in a nice way). When describing what you're looking for, be careful what you say – don't say: "fat couch potatoes need not apply", but you could say "I'm looking for someone with an athletic build who enjoys the outdoors."
Rather than just reeling off a list of boring facts, don't be afraid to throw in a few jokes or quirky details about yourself and your interests.
Get Over Writer's Block
You don't need to boast on a dating profile in fact, it will put some people off. However, if you find it difficult to write about yourself, ask a friend to list a few of your best qualities to get you started.
Keep it Readable
Keep the text readable so that it doesn't put potential dates off. Short paragraphs and bullet points are easier on the eye than huge chunks of text.
You might also like...