Keeping the Passion Alive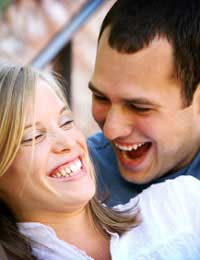 Do your remember those first months of your relationship when you couldn't keep your hands off each other? It may seem like a distant memory now but there no reason why you can't ignite some of that passion again. As you move past the honeymoon period, get caught up in stressful jobs or have kids, the passion is often the first thing to be left behind. The key to finding it again is to communicate with your partner make time for each other and make your sex life a priority.
Communicate
Whether inside or outside the bedroom, communication is the key to any good relationship. Sex can be difficult to talk about but unless you do, both partners will feel resentment. Be honest and open about your feelings but try not to blame each other. Look at why you have lost the passion in your relationship and how you could regain it. Take a practical approach and give each other one specific thing your could work on.
Make Time for Each Other
There never quite seems to be enough hours in the day and once you have gone to work, made dinner, done the chores and put the kids to bed, there is not much time left for each other. Just as communication is key to your relationship, so is quality time with your partner. Try and set aside a date night each week when you go to dinner, the cinema or just spend time talking. If you have kids, try and organise a play date or get a babysitter in.
Show Affection
You may think that passion only come alive in the bedroom but it is the small gestures that can make the difference. When was the last time you snuggled up with your partner? Gave them a meaningful kiss? Pinched their bum? Told them you loved them? Couples that are playful and affectionate regularly are more likely to keep the passion in their relationship. Any kind of physical contact will help reignite those feelings and make your partner feel wanted.
Get Away
If you are finding it impossible to find any passion together while you are buried under the pressures of everyday life, then get away. Even if it is just for one night, time away will help you see each other in a new light. Try and remember what made you fall in love with your partner or re-create those early days together. Plan an intimate dinner, a walk on the beach holding hands or a couple's spa treatment. Whatever you do, having fun time, just the two of you, will help find that lost passion.
Just because you have lost that passion doesn't mean you can't get it back again. You need to take the time to enjoy your partner, have fun together and spend time alone. The key to reigniting the flame is communication. Talk about the problem, how it can be solved and what you still love about each other.
You might also like...