Long Distance Relationships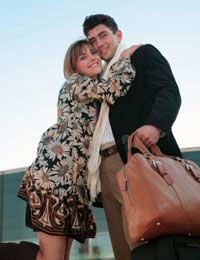 Absence makes the heart grow fonder – or so they say. Unfortunately it's just as likely that absence will make the heart cheat, drift apart or argue a lot. As people travel more and move around a lot for work it is becoming more common for long distance relationships to form. On top of the normal struggles in relationships, when you are living apart other issues come into play and small niggles can be magnified by the distance.
Trust
One of the biggest issues that you have to deal with in a long distance relationship is trust. You are not going to know where your partner is all the time and you have to believe that they are telling you the truth. It is also likely that you will not know their social circle or work colleagues as well so will feel a bit out of the loop.
The quickest way to ruin a long distance relationship though is to constantly mistrust your partner. It can be easy to feel insecure and have nagging doubts but you will just drive yourself crazy if you can't keep these feelings under control. You know that you are being faithful, despite the distance so there is no reason why your partner isn't doing the same.
Building the Bond
When you don't share everyday experiences and mix with the same group of friends it can be easy to feel your lives drifting apart. The small, common things we share help us to bond in a way that can be difficult when you are apart and it is important to make a special effort. Talk to your partner about your day, text them if something important happens at work or email them a funny joke from a friend. These small interactions are just as important to a successful relationship as the big stuff.
Sex
Everyone would like to have more sex and when you don't see your partner for long periods of time it can become very frustrating. This lack of intimacy can fuel insecurities and lead to feeling that your partner is cheating. Yes, if you are apart then physical contact is going to be limited but there are other ways to keep your sex life sizzling.
Send your partner a suggestive text or sexy photo. Write them a letter or send them a naughty present. Building the anticipation will lead to great sex next time you see them and give you a smile on your face as you look forward to it.
Planning
When you have to plan every visit and your time together is limited, your relationship can begin to feel mechanical and lacking spontaneity. Unfortunately this is one of the pitfalls of long distance relationships but you can do things to make it more exciting. Take it in turns to decide what you will do when you are together and include new restaurants or activities to keep it interesting.
Surprise your partner with a present in the post or deliver flowers to their work. If you can then turn up unexpectedly one day or book a night in a swanky hotel.
Focus On the Positive
Not getting to see each other very often can feel depressing and laborious. Often it feels like you spend half you time together dreading the time when your partner will leave and the relationship can begin to feel like more hassle than it's worth.Try and concentrate on all the wonderful things about the relationship and the fun times you have together to remind yourself why you are doing it. Instead of spending your time alone pining for your partner, enjoy it. Make plans with your friends or enjoy pampering yourself and being as selfish as you want.
Long distance relationships can be hard but if you can make it through then you will have built a solid foundation for your future and know you can make it through anything.
You might also like...