Fidelity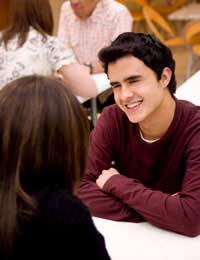 Fidelity is important to any relationship as it is an indicator on the trust and value that both partners place on it. However fidelity can mean different things to different people. There is no right or wrong definition as long as both of you agree on the terms and honour them.
What is Fidelity?
For some people fidelity may mean never even flirting with another person while for others having sex with someone else may be perfectly fine as long as they know about it. Everyone has their own beliefs and expectations of how their relationship should be. For some couples an open relationship works well while others would never even contemplate the idea.
Whatever works for you is fine as long as your partner is happy with it too. Don't feel the need to be defined by other people's beliefs or worry that they will think less of you. The only thing that matters is how you and your partner define fidelity together.
Setting Boundaries
Open and honest communication is the key to any relationship and no more so than when discussing fidelity. If you don't talk about the subject, find out what each others' limits are and sent boundaries then someone will undoubtedly end up getting hurt. Everyone comes into a new relationship with their personal beliefs and often expects the other person to think the same way. Unless you ask them you will never know though. If your ideas are poles apart then it might take a lot of heart to hearts to reach a decision you are both happy with. Respect your partner's beliefs and if you think you can't honour them, be prepared to move on.
Infidelity
Whatever the rules are in your relationship, if your partner breaks those boundaries you will be left feeling upset and angry. Finding out about an infidelity is heartbreaking and it is difficult to re-build that trust. After a betrayal you may decide you can't continue with the relationship. Even if you leave your partner, try and understand why it happened as this will ease your pain and help you move forward. If you stick with it, there will be a lot of hard work ahead but you will be able to put it behind you eventually. Infidelity is a painful experience but many couples have come out the other end stronger and more determined than ever to make their relationship work.
Re-setting the Rules
If one of you cheated it may make you re-asses your feelings on fidelity. Perhaps you want to tighten the rules or maybe you decide that it was the lies that hurt so an open relationship would be better. Infidelities that occur because the boundaries weren't clear or it was a grey area can cause confusion and resentment. Whatever your new thoughts, you need to discuss them with your partner. As relationships grow and mature they also change and you need to keep the lines of communication open.
There is no set standard for fidelity and definitions vary between cultures, religions, ages and individuals. Whatever you and your partner decide, make sure you are happy with it. Don't agree to something just to please the other person, as ultimately it will lead to pain and heartache.
You might also like...