Going on Holiday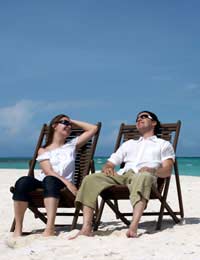 Holidays can be the highlight of your year but they can also be dreaded. If things aren't going well in your relationship a holiday can highlight this and lead to more arguments. However holidays can also be used to re-connect and salvage a failing relationship.
First Holiday Together
Your first holiday together is an exciting event to look forward to. Whether you are sneaking away for a romantic weekend or having a relaxing week in the sun, the anticipation is half the fun. However, there is also a lot of pressure to have a good time and impress your partner which can lead to the enjoyment being taken away.
If you have only ever seen each other on dates before then spending a long period of time together can be a whole different experience. Maybe you want to grab a sunbed at 8am while they want to take a more leisurely approach or maybe you weren't aware how messy they were until they spread their clothes across the room. Going on holiday can make you closer as a couple but it can also flag up problems in your relationship. Make sure know your partner well before you book a break and be ready to deal with any surprises that come your way.
Re-kindle the Romance
A break away is the perfect way to re-introduce a bit of romance into your relationship. Leave the kids with the grandparents and concentrate on each other. Once the everyday pressures are taken away you can re-discover having fun with each other. Book room service and don't leave bed for the whole day, or take a nice long walk along the beach. Having quality time together is essential for a healthy relationship so don't feel guilty about indulging yourselves. You will go back to you normal lives feeling refreshed and able to give much more.
Holiday Arguments
Even if you and your partner don't normally argue much, the opportunities to fall out on holiday are endless. From deciding where to go, to what time to get to the airport or what excursions to take, decisions arise at every corner and can cause tension. Everybody has their own idea of what makes the perfect break and when you clash on these ideals arguments can break out. To avoid these problems you both need to be willing to compromise or take it in turns to make the decisions. If they want to lie by the pool one day then they should agree to do watersports the next. Perhaps it isn't just the decisions that are causing arguments but spending so much time together. When work, chores and children are combined, couples often don't see all that much of each other and get used to it. When you are on holiday you are constantly around each other and it can flag up all those complaints you have about your partner. This is probably why the most amount of divorces are filed for after the holiday season.
The Make or Break Holiday
If your relationship has reached crisis point then you may decide to book a holiday to try and save it. The idea being that by getting away from normal life you will relieve the pressure and outside influences. This can be a good idea but also need to be treated carefully. With all the variable factors and decisions that come with a holiday you may ignite even more arguments. Or by spending a lot of time together you may cement the decision that you are not meant to be together. Use the time away to work hard on re-connecting. Pick activities that you both enjoy and make a concerted effort to have fun. Talk over dinner, about everything except you relationship problems. Then, before you leave for home sit down and have a proper heart to heart and see if your time away has swayed your opinions and given you something to build on.
Holidays mean you spend a lot more time than usual with your partner, which can be great, but can also create tension and arguments. Concentrate on enjoying yourselves and try not to let the problems get in the way.
You might also like...