Protecting Children Through a Divorce or Break Up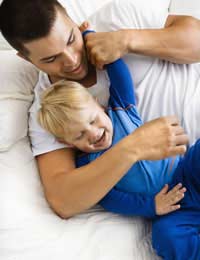 Many couples stay together 'for the sake of the children' without realising that it is not necessarily the best thing for them. Children are sensitive to what is going on and will pick up on anger or resentment in your relationship. If you decide to end the relationship then you will be surprised how resilient your children are.
Honesty is the Best Policy
When you are going through a divorce or break up where children are involved you need to be honest with them about what is happening. Children are sensitive to what is going on and pick up that something isn't right. Trying to shield them from it will only leave them confused. Sit your children down together with your partner and explain simply and clearly what is happening. Children can have a tendency to blame themselves so emphasise the fact that you both still love them and it is not their fault. Explain that it is just that you and your partner are no longer happy together. Try to answer any questions they may have and tell them what will happen about where they are going to live, go to school etc.
Stay Civil
You may hate the sight of your partner but it is not fair to cut them out of your children's lives. However angry you are at them, unless they have been violent or abusive, they deserve to have a relationship with their children. Your children also need to have them as part of their lives. Do not argue with them in front of the children and do not speak badly about them in front of the kids either. You may see the flaws in your ex but your children still love them and need to be left to make their own decisions.
Work Together
If you have split up with your ex acrimoniously then the last thing you probably want to do is sit down and have a polite conversation with him. However you need to be mature about the situation for the sake of the children. You are both their parents and need to have equal say about their lives. If you cannot come to an agreement about visitation rights etc then you will need to use a solicitor. However, you will always be part of each other's lives as you are bound together by your children and need to learn to work together somehow for them.
Have Fun
Going through a divorce or break up is an emotional and heart breaking time. Not only do you have to deal with all your anger and hurt but also with the practical issues of dividing assets. It will take you time to function normally again but you need to make an effort to get through it for your children. Plan fun days out or activities to help take their mind off what his happening – and yours. If you are having a bad day then send them to play with their friends or to stay at a relative's. It is normal to struggle and while your children will give you strength, try not to drag them down with you.
It is amazing how well children can adapt to new situations but you need to do your part too. Be honest and open with them and work together with your ex to keep the relationship civil.
You might also like...
I'm a grandmother of two beautiful boys and I've just separated from the papa however we were never married but he's always been my grandchildren's life last nine years they never knew life without them however he's moved on with the new woman even left state.... This is been quite devastating for the grandmother but my biggest concern is my grandchildren ...they continue to ask why we can't go to grandpas and I love him so much and he doesn't want a relationship with them you won't even return phone calls to me or you can imagine heartbreaking situation any advice would be really awesome in this situation so far I've just said he's been really busy but he loves you and we try distracted by taking them places I really appreciate some expert advice on the situation thank you for your time
Rose
- 9-Jul-15 @ 8:35 PM
My boyfriend and I got together almost two years ago, we both came from abusive partners, he has 6 children and I have 2. His 6 children are 22,16,11,7 & twins of 5 years. The problem is I'm not allowed to see the five youngest children because I had a row with their mother. So now there will be a family party and my partner has to choose who goes between me or the 5 children and their mother. Because of the family link I always step down and let the children go. If I don't the mother will say if she's going the children are not. This has been going on for two years now & my partner is going along with it because he truly believes the younger Holstein at enjoy ready to see their dad with another women as they sometimes say to him dad why don't you live here anymore? And he always brushes it off or changes the subject. Ok so this is where I need some advise, last week one of the twins got really upset when hos dad pulled away in the car and my partner broke his heart and said that's why I think they're not ready cos they still have them wobbles from time to time. He was leaving the kids earlier than usual because we had a work party to go to. So my opinion is, if I was allowed to see them we could have taken them with us because the party was a family type party and the reason the child was upset was because his routine was messed up by the fact he's dad was leaving early rather than the fact his dad was leaving and he wouldn't have had to leave him early if they could see me cos we could have taken them. Its like a catch 22 situation And it happens all the time Because I can't see them, he has to divide his time which means the children see him less, so the longer that goes on the longer the wobbles go on cos they miss him. I think children are resilient enough to not care about the fact he is with me and not their mother if they had it explained that mum and dad don't get along this is my new Gf but you'll always be first in my life then that way they don't get to feel second best to me when he is with me and 'not allowed' to see them during that time Help! Lol
FMN
- 28-Oct-14 @ 9:30 AM