Consortium Created to Prevent Divorce Going to Court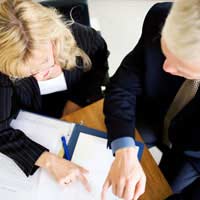 Going through a divorce is a traumatic and difficult time, often made worse by having to battle it out in the courts. Getting lawyers involved makes the situation more stressful and much more expensive. Now a consortium has been set up to help couples mediate outside the court system. This is particularly good when children are involved in a divorce so that parents can learn to communicate better and decide on a deal that is right for the kids.
How a Consortium Works
A consortium is a place where you and your partner can go to decide on issues of divorce without having to get lawyers involved. You will be allocated a trained mediator who can help you discuss how to split up any assets and decide on the best situation for your children. It can help to stop feelings of hostility and encourage you both to work through the break up together.
Deciding on a Consortium
Nobody can force you and your partner into choosing to use a consortium over the courts. It is something that you both have to volunteer to do. If you are struggling to convince your partner then tell them that if it fails, you can still go ahead with the traditional route. A consortium saves money and stress and gives you more control over the outcome, but there is always an alternative if it doesn't work.
Communication
One of the major benefits of going through a consortium rather than the courts, is the ability to communicate without lawyers. It can help your reach important decisions about money, property and your children's welfare without having to fight it out. If you have children then you are going to continue to need to communicate effectively so it can be a good starting point.
Cost
Going through the divorce courts can be very expensive. By choosing a consortium you will save yourself a lot of money that can be out towards establishing your new life. This can be particularly important if you have children, as you don't want to waste money you could be spending on them.
Children's Needs
Dealing with a divorce is an emotional time for you but also for your children. You don't want to exacerbate their pain by them knowing that you and their other parent are battling it out. The less stress you and them can be under, the better. A consortium can also help as you and your partner can discuss your children's needs with the help of the mediator and think sensibly about what would be best for them, rather than it becoming a win or lose situation.
If you are going through a divorce, then choosing a consortium is a good thing to consider. Trained mediators will help you negotiate and discuss the situation and come to a decision that suits you both. It can help you communicate, which is essential if you have children together. It can also be a emotionally easier on the children and on you. Going through a consortium is cheaper, less stressful and gives your more control over the outcome.
You might also like...