Are We Exclusive?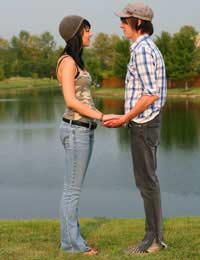 It's one of those questions that you don't really want to ask because you are not sure you will like the answer. When a relationship shifts from the casual dating stage to when you want something more it can be difficult to broach the subject. It is always best to ask the question though, however scary, as making assumptions will only lead to somebody getting hurt.
Open, honest communication is the key to any successful relationship and starting this early will help you create a strong base. Don't be upset or shocked if their feelings are different to you but be willing to find an answer that suits you both.
Crossed Communications
So you thought that you were exclusive and they didn't, or the other way round. When the subject hasn't been clearly outlined it is easy for people to jump to conclusions. They will often apply their own standards or feelings to the relationship and just assume that the other person feels the same.
If somewhere these communication lines have been crossed there is no reason why you can't rectify it. In fact, a misunderstanding can be the perfect catalyst for a good conversation where you can both agree on what your status is.
Casual or Committed?
When you start out a new relationship neither of you really knows where it is going. You will both come into the situation with different expectations and unfortunately, these may not match. Maybe your new lover has just come out of a relationship and not looking for anything serious whereas you have been on the lookout for a steady partner. It can be disappointing when this happens but it doesn't make either of you right or wrong. Talk about where you hope things will lead and if you see your paths veering off in different directions, it might be sensible to put it down to experience and move on.
What Does Exclusive Mean?
It may seem obvious to you what exclusive means, but your definition may not necessarily be the same as your partner's. It is important to establish boundaries so that you are both clear what you can and can't do. Are dates with other people out? Is a casual drunken kiss OK? Can you still have lunch with you ex? Asking specific questions will help stop misunderstandings as the relationship progresses.
Excluding That
So you thought you had established that you were exclusive and now your partner has gone against your agreement. It is always painful when someone breaks your trust and you will no doubt feel angry and upset. However, if you are still in the burgeoning stages of a relationship it may be possible to salvage it. Perhaps your partner felt pressurised into agreeing to your terms to make you happy. Talk to them and see if maybe taking a step back would help them feel more comfortable. Don't allow them to get away with anything just to keep them though. You need to make it clear that you are not giving them a free rein but are easing them in gently.
You might also like...
Wow this really helped me and my partner :)
Dahlia
- 4-Mar-12 @ 4:51 PM