Are We Moving too Fast?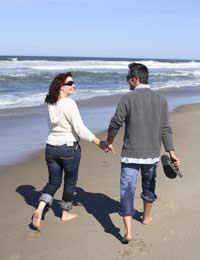 When you find someone you really like it can be easy to get caught up in the moment and before you know it you are planning marriage and babies. While a little bit of fantasizing never did anyone any harm rushing into a relationship without taking time to get to know each other properly can lead to problems later.
Also, you will both come into the situation with different perspectives and experiences. Maybe one of you has been looking for a relationship while the other has been hurt badly and is more cautious. Making your hopes and dreams match can be a tricky balancing act but with good communication and a bowl full of patience you can make it work.
You Want To Slow Down
Sometimes it feels like a relationship takes on a life of its own and everything is happening around you without you having any control. When you meet a new partner it is exciting but can also feel quite scary. If you have been cheated on or had bad experiences in the past you may be wary about becoming to attached to someone too quickly.
If you feel this way then take a step back and slow things down. Don't be afraid that you will lose the other person as if they are right for you, they will understand. You should never do anything you don't feel comfortable with as you will only regret it in the future. Explain to your partner how you are feeling and give yourself some space to adjust to the new relationship.
They Want To Slow Down
If you partner says they think the relationship is moving too fast it can feel like a personal attack and be difficult to deal with. The likelihood is though that it is nothing to do with you, but with your partner's past experiences. Be patient with them, try and talk it through and give them the time and space they need. If you try to push them they will only back away further and begin to question your motives.
Magic Moments
Your relationship may have been running smoothly and then a big event such as moving in together or getting engaged has made you partner freak out. When this happens it is easy to get angry and upset as you thought everything was great. Often a big life changing event makes people look at the future in a way that they hadn't done before. Although you may have been planning your wedding since you were fifteen your partner may never have considered it until now. Try and be patient with them, although it is easier said than done when they suddenly back away at this point in a relationship. Give them time to come to terms with a big commitment as the more demanding you are the more likely they are to run away.
It's Not You, It's Me
Unfortunately sometimes it comes to the stage where you realise that you both want different things and the relationship just isn't going to work. This can be a painful and unsettling experience but it is better to establish it early on than try to struggle through and make you both unhappy.
If you are doing the breaking up then be sensitive to the other person and try and explain as clearly as possible how you feel. They probably won't believe that it isn't anything to do with them but be calm, patient and there for them as a friend.
In a perfect world you would meet your dream partner, fall into each others arms and live happily ever after but in real life you are not always on the same page. If the relationship is worth it you will make it through but being patient and understanding will make the ride smoother.
You might also like...