Does He/She Like Me? The Signs!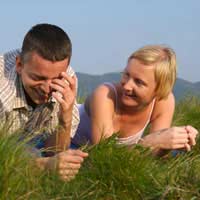 When you really like someone you are constantly on the lookout for signs that they feel the same way. You overanalyse everything they say and do for a small snippet of hope that they like you. When you look at something too hard though it is often difficult to see clearly and easy to misinterpret the signals.
Body Language
Only 10% of communication is through what we say while a lot of it is due to our body language. Often a person is unaware of what their body is saying about the way they feel as the movements are subconscious. If a person's knees are turned towards you or their legs are crossed with their outside one over the top then they are interested in what you have to say. If they have their arms crossed or knees drawn towards their chest then they are in a defensive position and are wary about letting you too close.
We communicate a lot with our eyes and if your object of affection makes a lot of eye contact or holds a gaze for a fraction longer than is comfortable then it usually means they are interested. Similarly if they preen themselves – fiddling with hair for the ladies or adjusting their clothes then they want to impress. If your date makes an excuse to touch you – to brush away a hair or feel the material of you top then it is a sure sign they want to get closer.
What They Say
While only a small amount of communication is through what way say, that little bit can be potent. If they ask a lot of questions it is a good sign that they want to get to know you better whereas if they talk about themselves or night, they are not that bothered. Talking about their friends and wanting to make you like them is also a good sign that they want to involve you in their lives and care what you think.
Electronically Connected
These days a lot of our communication is through text and email. This can be good as it allows us to express ourselves easier but also cause problems with understanding what is being said. Even on the phone, where there is no body language, you still have the tone and intonation in the voice to clue you in on how someone is feeling. A text or email is a very dry message leaving not a lot to go on. We do have the tendency, especially girls, to overanalyse a message and decipher each word or symbol. While electronic communication is useful it shouldn't be relied on and a good old fashioned chat will tell you a lot more.
Mixed Signals
It is easy to give out mixed signals or not be able to decide what the other person is feeling. Nervousness, alcohol consumption and trying to impress can all influence the way we act and our ability to communicate. However much you try to analyse another person's actions the best way to find out the truth is just to ask. This may be scary but will cut out a lot of agonising and if it is good news, it will lead to the best bits a lot quicker.
No signs are foolproof and figuring out if someone likes you not is an age old dilemma. Pay attention to how they act and talk but ultimately – just ask them!
You might also like...