Is it Lust or Love?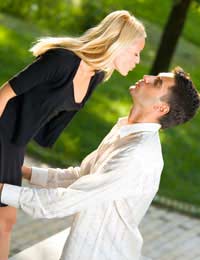 Your head is spinning your palms are sweaty, your heart is pounding – and your groin is too. When you first fall for someone it can be easy to confuse lust with love and not be able to make head nor tail of your feelings. Enjoy the thrill of those first encounters and then work out if the relationship is for kicks or keeps.
Lust
All relationships start out with a bit of lust. That is what attracts you to your partner in the first place. However funny, smart or caring they are, there needs to be a spark of physical attraction to take it beyond the stage if friendship. Before you get to know someone properly you are drawn in by the initial lustful attraction. This doesn't have to be purely a sexual thing; it is whatever makes you not be able to get them out of your head.
Sex
The build up to your first sexual encounter with a new partner is exciting and thrilling. Getting to know each other's bodies is a lot of fun and you probably won't be able to focus on much else for a while. Lusting after each other is great and should be enjoyed and relished. If your feelings don't go beyond this, there is nothing wrong with that, as long as your partner isn't expecting something more.
What Is Love?
So how do you know when you are falling in love? It is one of those eternal age old questions that millions of people have written about but no-one has ever come up with an answer. It is like, is there a god? You can believe there is and know in your heart, but you can't prove it. Love is a very personal thing that is different for everyone and only you can know how you experience it. If you think about your partner all the time, not just about having sex with them and always want to be with them, that is a good sign. If you feel your eyes lighting up when you speak about them and would rather sit on the sofa with than go out with your friends you may be falling in love.
Falling In Love
Falling in love is one of the most exciting, intimate and scary things you will go through. Finding someone that means that much to you is great but then you will also be worried that they don't feel the same or may leave you. Overcoming these insecurities will come with time as the relationship matures and you know your partner loves you too. If you have never been in love before then the intensity of the feelings may make you want to run away but try and relax and embrace them. Spend time with your partner and let them know how special they are. Don't try to pressure them into feeling the same way but give the relationship time. If you decide you want to tell your partner that you love them then do so. Don't be disappointed if they don't say it back straight away. Everyone needs to do it in their own time.
Only you can know if you have fallen in lust or love. Feelings take time to develop and as you get to know someone you might find your attraction deepening to a new level.
You might also like...