Questionnaire: Are You Over Your Ex?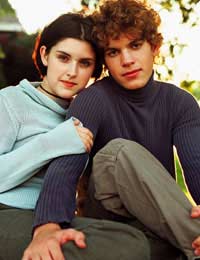 Your relationship is over, finished, kaput. But are you really over it and are you ready to move on? Answer these questions to find out:
How long was it since you broke up?
a) It was ages ago
b) A couple of months
c) Eight weeks, three days and two hours
Your ex's phone number is:
a ) Deleted
b) In your address book somewhere
c) Still on speed dial
If you're out somewhere and hear 'your song', do you:
a) Barely notice
b) Reminisce for a split second
c) Collapse in a weeping wreck
You find an item of your ex's clothing at your house. Do you:
a) Use it to clean the floor
b) Throw it in the charity bag
c) Snuggle up to it in bed
Today would have been your anniversary. Do you:
a) Forget
b) Organise a night out with friends
c) Stay in and pore over old photos of you and your ex
Your ex says he wants you to get back together. Do you:
a) Laugh
b) Agree to meet up to discuss your feelings
c) Race round to reunite with your ex immediately
Your Results
Mostly As – Congratulations, you're over your ex! You're more than ready to move on. However, beware that you're not putting a brave face on it or rushing yourself – you need time to grieve for the end of a relationship.
Mostly Bs – You're not out of the heartbreak woods yet, but you're getting there. Keep doing what you're doing and stay strong. You'll be over your ex before you know it!
Mostly Cs - You're still hung up on your ex. Try to take each day as it comes and be patient with yourself. Turn to friends for support and keep busy. You'll feel better soon!
Tips for Getting Over a Break-Up
Breaking up is always heard to do but with will power and a little TLC, you can move on. Try these tips:
Make a clean break. Don't stay in contact with your ex until you feel better and stronger about the break-up.
Talk to friends and family (not your ex!) about your feelings. Allow yourself to cry, and even shout and scream a bit if you need to. Bottling up your feelings will stop you from moving on.
Lean on your friends. Talk to them and arrange things to do to take your mind off your ex. If Sunday afternoon was 'couple time' with your ex, round up friends for a Sunday dinner or trip to the cinema.
Take each day at a time. Think short-term and you will feel better gradually without realising.
Stay busy and think positive. Had you given up things you enjoyed while you were with your ex? Pursue your hobbies, get a new hairdo, take exercise. All these things will perk you up.
Be patient and allow yourself time – break-ups are hard but you will feel better, even if you don't feel like it now.
You might also like...