Working Through Tough Times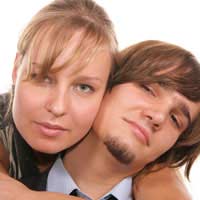 In an ideal world you would meet your perfect partner fall madly in love and live happily ever after. Unfortunately real life isn't like that. People change, bad things happen and relationships go through tough times. A rocky patch doesn't need to spell the end for your relationship though. Working together to get through it will make you come out the other end stronger and closer.
What's The Problem?
There are many different reasons why your relationship might be going through a tough time. Perhaps one of you has cheated and you are trying to deal with that. Maybe there has been a death in the family and you are finding it difficult to cope. Or sometimes it is just that you have grown apart and are no longer getting on. The first step is to identify the root cause of the problem so you know what you are dealing with.
Communication
Once you have established why things have got tough you need to work together to make it better. This is all about good communication. As well as sharing your side of the situation you need to listen to your partner. Not just look like you are listening or hear the words and not process them but really listen so that you understand what they are feeling. You may not agree with them but you need to understand. Communication can be difficult, especially when there is resentment or somebody has become very insular, but it is vital. If it is easier you could start by writing down your feelings for your partner to read. When your partner opens up it is important not to get angry or judgemental as this will only make them run away.
Is It Worth It?
When times are tough it can seem like trying to fix your relationship is too much like hard work. If it feels like you are just banging your head against a brick wall and that things will never change then it is easy to feel disillusioned. You need to have a long hard think and decide what you really want. Many couples have come out the other end and gone on to have a great relationship again. It will be hard work though and you need to be prepared to be dedicated and committed to it. It might even get worse before it gets better but if you really want to make it work, then take a deep breath and jump in.
Professional Help
When there are serious problems in your relationship it can feel like you are going round and round in circles and never getting anywhere. At this stage it can be invaluable to seek professional help. You may not like the idea of someone else knowing all your problems and feelings but having an impartial voice can help you work through them. Counselling can open up the lines of communication and give the tools to be able to deal with tough times on your own. If your car was broken you would call in a professional to fix it, so why does your relationship deserve any less treatment?
Tough times in a relationship are just that – tough. If you really want to make it work you need to be committed and communicate well. Seeking professional help can be a great way to help.
You might also like...