Young Relationships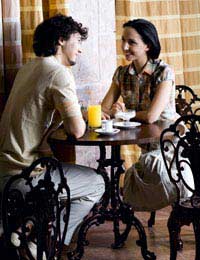 Young love is a beautiful thing but it can also feel like you are being pulled and pushed in all directions buy all sorts of people that think they know what it best for you. Usually they only have your best interests at heart but it can feel like they are trying to tear you and your partner apart. Listen to their concerns and take them onboard but concentrate on what you know in your heart.
Friends
When you are young, the opinions of your friends are important to you but it can also be difficult to escape them. Listening to advice is always good but too much of it can leave you feeling overwhelmed and confused. Try not to let your friends pressure you into anything you don't feel comfortable with and don't let their opinions influence your decisions too much. Take time out to think about what you want and what is right for you.
While most of your friends will want to see you happy some of them will be fuelled by jealousy or spite. This can be difficult to deal with but try to understand that it is because they are not happy with their own lives that they want to put yours down.
When you first fall in love it can be easy to spend all your time with your partner and not make time for your friends. However you will soon learn that this is a bad thing to do. If your relationship fails and you have cut all your friends out then you will have no-one to turn to. Also, however good your relationship is, friends are very important. Your life will be much fuller with lots of people to share your happiness with.
Family
To your family you are still there little baby and it is understandable that they will feel protective towards you. They want to keep you safe and happy and away from all the hurt of the big wide world. Try not to hate them for wanting to help you. If they think that your partner is a bad influence for you or that you are too young to be involved with them then they will try to control your interactions. Your first reaction may be to fight against it and rebel but the more mature and calm you act, the more likely you are to win them over.
Try and let them get to know your partner by inviting them round for dinner or to family events. Once they feel confident that they are a good person and will not hurt you then they will probably ease up. If that doesn't work then sit down with them and calmly explain your feelings. You may feel yourself getting upset or angry but the less emotional you are the better it will work. Before you do this think of a list of reasons why they should let you see them and some reasonable requests. Be willing to compromise on the arrangements and then stick to the agreement, even if it isn't exactly what you wanted, to show you are responsible. Slowly but surely your family will relax if you prove that you are mature enough to handle a serious relationship.
Sex
When you are young, experimenting with sex can be an exciting and terrifying prospect. If you are in a good loving relationship then that is the best place to try new things. However, don't rush into anything. You have plenty of time to have sex and almost anyone who has had sex at a young age will tell you that it was a mistake. It is easy to feel pressured by you partner or friends but listen to your feelings and only do what you are ready for. When you do decide you have sex make sure you have learnt about contraception and always use it. Even if you are already in bed with someone, if something doesn't feel right and you don't want to do it, then stop.
You might also like...