Falling in Love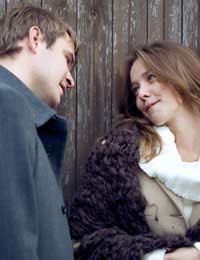 If there is one thing that has been written about since the dawn of time then it is falling in love. It has been the inspiration for millions of songs stories and poems and transcends race, age and class. The butterflies, floating around on cloud number nine and feeling like you are the luckiest person in the world.
Breaking Down Boundaries
Whether it's falling off your chair, down a whole or in love, falling can be scary. You feel a lack of control which can be difficult to deal with. When your emotions seem to be running away from you and your feelings are intricately linked to someone else then it can leave you feeling very vulnerable. If you have found it difficult to get close to other people or have been let down in the past then falling in love can make you want to run away. Being in love requires a huge amount of trust and belief in the other person which may be a new experience for you. However once you have broken down these boundaries, being in love will provide you with strength, happiness and support.
Stay Grounded
When you fall in love your partner will seem like the most important person in the world and you are likely to want to spend every waking hour with them. While you should make the most of these feelings it is important not to exclude everyone else in your life. Sharing happy times can only make them better and when the honeymoon haze lifts you will be glad that your life is full of friends and family.
Unrequited Love
If there have been millions of songs and stories about love there have bean just a many about the unrequited kind. When you fall in love with someone who doesn't feel the same way it can be the most heart-wrenching and de-moralizing experience. Unfortunately there is nothing that says the other person has to fall in love back and as hard as it is, the best thing you can do is grow stronger from it and move on.
Three Little Words
They may only be three little words but they are very powerful ones. When you and your partner first say 'I love you' it can be a very special moment but also a very scary one. If you want to say it first then take a deep breath and go for it. Don't be disappointed if they don't say it back as it is a very personal thing that may take your partner a longer time to feel. If your partner tells you that they love you and you don't feel the same then be sensitive, accept the compliment and wait until a later date to talk about it.
When The Haze Lifts
Love is a great and wonderful thing but there comes a time in every relationship where the rose tinted glasses come off and you are faced with reality. Reality isn't such a bad thing but after the honeymoon phase it can feel like a disappointment. You realise that your partner does have flaws and all those traits you fell in love with suddenly become irritating. However, if you make it through this reality check then your love will grow and mature to a deeper level of understanding and long term sustainability.
If you are falling in love then congratulations. Enjoy it, embrace it and make the most of every love filled moment.
You might also like...