Getting to know Each Other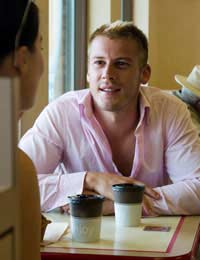 When you first meet a new partner the intrigue and anticipation is all part of the fun. Getting to know them is exciting and gives you something to look forward to. It is also a crucial part of the relationship. By finding out more about them you can establish if your fledging relationship has potential and maybe learn something about yourself in the process.
The Real Deal
When you find someone you like you are keen to impress them and make them fall for you. While you obviously want to make a good impression you also need to be yourself. Sometimes you can have the tendency to say what you think they want to hear, rather than what you actually think. While this might work in the short term, it is bad news for the success of your relationship. Do you really want them to fall for someone you made up, or the real you?
The Right Questions
Now, you don't want to bombard your date like you are on a quiz show but you do want to use this time to find out all about them. People like it when you ask questions about them anyway, within reason. If you have any prerequisites that are important to you such as religion, education or job then ask about them. At the same time though, don't let something that doesn't feature on your checklist put you off. As you get to know them you may find out that the relationship works, even if not on paper.
Don't Skip It
There is plenty of time in a relationship to get serious and worry about the deeper issues. Use this initial time to have fun and enjoy each other's company. If you miss out on this first flush then you may find your relationship has a rocky foundation. It is difficult to understand your partner's feelings if you don't about their background, views and values.
It is also important not to rush the physical side of your relationship. Remember back in school when you were happy kissing for hours? Why not try it again. The more time you take with the initial stages of intimacy the more mind blowing it will be when you get round to doing the deed. In the same way that you are getting to know each other mentally, get to know each other's bodies. It's fun, sensual and gives you a chance to back out if you don't feel comfortable.
Getting to Know Each Other Again
Sometimes you can get so caught up in everyday reality that your relationship gets pushed to the bottom of your priorities. As we move through life we all change our opinions and interests as we learn and discover new things. If you haven't been paying your relationship the attention it deserves then you may wake up one day and suddenly realise you don't know anything about your partner.
It is possible to re-discover each other though and it can be a fun and enlightening process. Ask each other simple questions like what's your favourite food? Or which author do you most enjoy? Move on to talking about your hopes such as where is your dream holiday destination. Or ask what their view on religion is. You may be surprised how little you actually know about them. Take time out to go on dates and get back that initial spark. Enjoy each other's company, have fun and feel carefree again.
Getting to know each other is fun and important in a relationship. So start asking questions, enjoy each other and prolong the initial excitement.
You might also like...