Overcoming Jealousy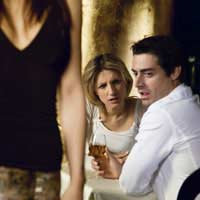 Jealousy turns us all into a bit of a green eyed monster now and again but if yours is getting out of control then you need to address the situation. There is nothing that will ruin a relationship quicker than constant suspicion and lack of trust. Unfortunately it can often be a self fulfilling prophesies that if you accuse your partner too often, they will eventually decide they might as well do the dirty deed, as you think they are anyway. By asking yourself a few simple questions, you can establish why you feel this way and how to deal with it.
What is Making You Jealous?
There are many things in life that make us jealous - people with a nicer house, more money, swanky shoes, a better job. When it comes to relationships though it is usually to do with time and attention. If you think your partner is spending too much time away from you or paying more attention to someone else then jealousy can flare up. Try and pinpoint what it is that is causing yours. Is it a certain behaviour? Is it a particular person? Or are your own insecurities impacting on your perceptions?
Are Past Experiences to Blame?
If you have been cheated on or let down in the past then it is easy to let that hurt and humiliation impact on your current relationship. It isn't fair though, to yourself or your partner. Would you be happy if your partner tarred you with the same brush as their ex? Probably not. Bad experiences often leave you feeling vulnerable and afraid and admitting these feelings can be a good step to overcoming them. Not all people are the same and though it can be difficult to trust again, it is the only way to have a happy, healthy relationship.
Do You Seriously Have Anything to Worry About?
Take a good hard look at what you are actually jealous of. Don't make assumptions or sweeping generalisations but analyse the facts and see if there is actually anything to be jealous of. This is best done with an impartial friend who can help you see straight. Often when we are caught up in an emotional state it is difficult to see things clearly. Is your partner really flirting with someone or just having a friendly chat? Are they really putting their friends before you or just trying to have a social life? Are they actually spending too much time with their ex or do they have to see them to visit their kid?
Talk to Your Partner
Once you have established why you are jealous, if there is anything particular causing it and how it can be resolved then you need to talk to your partner. Don't question, accuse or attack them, but try to address your fear in a non-confrontational way. Tell them exactly why you feel jealous and explain what you would like to happen. Before you do this think about whether your request is reasonable. Is it something that you would be comfortable doing? For example, asking your partner never to talk to another girl in the pub ever again is not fair and will only breed resentment.
Jealousy can be a healthy emotion in small doses. It shows how much you care for the other person and how important they are to you. Focus on these aspects and try to put aside your irrational fears before jealousy consumes you.
You might also like...