Meeting Someone Else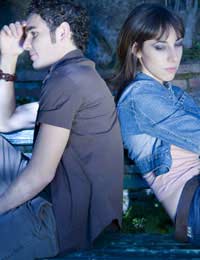 When you are in a relationship and meet someone else it can be a confusing and difficult time. Trying to weigh up what you want, where your true feelings lie and dealing with the guilt, you feel can make the situation seem more hassle than it's worth.
Fling or Future?
When you first met your partner you felt butterflies and looked forward to every encounter. Now that anticipation has been replaced with routine and resentment. If this is the situation in your relationship then meeting someone else can feel like a flame inside you has been re-ignited. It's exciting, fun and the thrill of the chase. All these feelings are great in the short term but you need to look at whether your new obsession is merely a distraction. Often, in a long term relationship, it is easy to feel that your partner doesn't listen to you or have enough time for you. When another person lavishes attention on you it is easy to be swept along by the compliment. You need take a long, hard look at the person and decide whether they are a symptom of your current relationship or the beginning of a new one.
Dealing with the Guilt
Guilt is a complicated emotion that can eat away at you slowly. If you have been seeing someone behind your partner's back then you will already be feeling the strain. However bad your current relationship is and however much you are enjoying your new acquaintance you will struggle with the lies and deception. No doubt you will question your morals and worry that you are a bad person. Punishing yourself won't make the situation any better. You have done the deed and now you have to deal with it. If you decide to leave the relationship then do it as soon as possible. The longer you drag it out, the more lies you will tell and the deeper you will hurt your partner. If you decide to stay then you will have to work through your feelings of guilt. Although you may think telling your partner is the best idea it is not. It may make you feel better and alleviate some of your guilt, but you will only be transferring your pain to someone else.
Making Your Move
Most of the pain and anger that is felt when someone discovers their partner has cheated is not about the deed itself but about the lies and deception that surrounded it. Whatever affair you are caught up in you need to decide as soon as possible what you actually want. Trying to keep your relationship going and see your new partner will only lead to difficult times ahead. If you decide to leave your partner then you need to be as open and honest as possible. This isn't easy and you will face a barrage of questions and emotions but you owe it to them. It will also make life easier for you in the long run as your partner will find it easier to move on and leave you to live your life. You must expect a certain amount of retaliation and criticism of your new partner. If this becomes threatening, excessive or violent though then you must intervene. Things happen, feelings change and relationships come to an end and meeting someone else doesn't make you a bad person. Handle it maturely and openly though to stop the situation eating you up.
You might also like...
The author decides that the person who does this to a loving partner of x years is not a bad person. Says who? I guess the partner who invested into the relationship will think otherwise."Although you may think telling your partner is the best idea it is not. It may make you feel better and alleviate some of your guilt, but you will only be transferring your pain to someone else." - The author is right, but only partly. True, this will be transferring pain, but it is truly a dilemma. For not telling the partner is just as bad: I mean, there was a time in the relationship where one of the partners had serious doubts about the relationship, while the other went on happily thinking that everything is fine and perfect. Whereas I agree that it is painful for the partner, it is also true that he or she deserves to know. It is only fair - after all they might then decide that they do not want to stay in the relationship, or at least start seeing it as what it really is, not with rose-coloured glasses.These articles are part of the problem behind increasing mistrust between partners and divorce rates etc. It actively encourages this behaviour by erroneously justifying the unjustifiable. It is not that these things do not happen, of course they do, and they are not bad per se, but they are not good either. It is far more complicated than this, and that is why discussion should be the first step, and not a unilateral decision.The partner being left for someone else has worked hard during the relationship and deserves to be part of the decision making process - not merely put on the side while the leaving partner deliberates, probably with the assistance of the new flame.Guilt is there to show us that we are indeed doing something we ourselves think wrong - not to be ignored so that we may go ahead with our own selfish desires at the expense of other people's feelings.Yes, meeting someone else does make you a bad person if you decide to pursue this relationship without giving your old one a genuine try and discussing things through with your old partner.In the end, it will be beneficial for all the parties concerned.
O'Reilly
- 24-Aug-11 @ 6:58 AM