Getting Engaged - Is it the Right Time?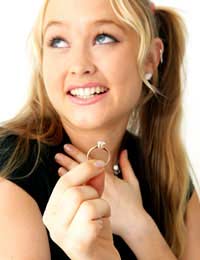 The ring the proposal, the announcement – it's easy to get caught up in the romance of an engagement without actually stopping to think if it's the right thing for you. There can be a lot of pressure from your partner and your family about getting engaged and other people might think it's a great idea. You need to decide if you are ready though as that's what really matters.
Rushing into Things
Getting engaged is not something to be taken lightly and basically means that you are willing to spend the rest of your life with your partner. That is a huge commitment and you need to think about it carefully before rushing into anything. When you are in the honeymoon stage of your relationship your partner can seem like the most amazing person on earth with no flaws. Acting on impulse you may decide that you can't wait and want to get engaged straight away. While this may seem romantic it can also set you up to fail. You need to have seen your partner in all lights before you make such a big commitment. You need to wait for the honeymoon to fade and know what it will be like to be together in stark daylight.
Will You Say Yes?
When your partner is down on their knee declaring their love for you it can be an amazing feeling but also out you under a lot of pressure. You don't want to shatter their dreams but if you don't feel the same way there is no use pretending. Don't shoot them down straight away but say you need to think about it and then find an appropriate time to sit down and talk. Not wanting to hurt someone, or feeling pressurised is not a good enough reason to get engaged and will just lead to more complications as the wedding approaches.
Fixing the Cracks
If things haven't been going that well in you relationship there can be a tendency to try and fix it with a big gesture. Perhaps one of you cheated or you split up and got back together and now you want to prove your commitment. However, in the same way that having a baby isn't a quick fix for a relationship. Neither is getting engaged. If you have issuing that need addressing in your relationship, getting engaged will only intensify them and put more pressure on you.
The Time is Right
Even if a proposal comes out of the blue and you weren't expecting it, you will know if it feels right. Once you have been with your partner long enough to know if you are suited and that you work well together then you are likely to start considering your future. Enough marriages fail already that there is no point agreeing to something you don't feel passionately about as you are just setting yourself up for failure. If you are in love and want to spend the rest of your lives with each other then that is a good reason to get engaged. Enjoy it, announce it and start planning the wedding – just know you are doing it for the right reasons.Getting engaged is an exciting and memorable event and you don't want it to be marred by doubts. Know what is right for you and stick to it.
You might also like...