Should I Stay in the Relationship or Go?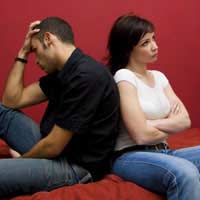 Ending a relationship can be difficult and confusing. You put so much time and effort into making it work that letting go can be hard and painful. Only you can decide whether a relationship has run its course but this can often be a lot easier said than done. Ongoing arguments and resentment build up to the point where seeing past them can become almost impossible. Maybe you have tried counselling and put as much work in as you think you can and still nothing is working. Or maybe you just can't put your finger on why the magic has gone. Either way, you need to weigh up your options and be clear which is the right decision for you.
Love Isn't All You Need
Unfortunately love alone can't sustain a relationship - although life would be much easier if it could. We all dream of meeting our perfect mate and living happily ever after. But the fairytales never mention the need to work hard at the relationship to make this possible. Trust, compromise and understanding are all key. There is no shame in admitting that you need help and contacting a counselling group may be able to offer you the tools to give your relationship one last shot.
Consider the Children
So many couples stay together 'because of the children', believing that by staying they are offering their children a sense of stability. However, children are a lot more clever and sensitive than we often give them credit for and although you may think you can hide your relationship problems from them, you can't. Arguing in front of the children or even so they can hear is emotionally scarring for them and they will pick up on any tension in the house. Having happy parents is important to children and if this can only be achieved by splitting up then it is much better than years of pretending.
Is an Affair the End?
It can feel like the ultimate betrayal that you can never forgive, but an affair doesn't necessarily have to spell the end of your relationship. You have every right to feel hurt, angry and upset and it can take time for the pain to heal. However, usually there are underlying reasons why people cheat. Maybe they have been feeling lonely or misunderstood. By understanding why it happened and how to move on the experience can actually strengthen your relationship. Your partner needs to understand how much they have hurt you though and be patient and committed to moving on.
Violence or Abuse
If your partner is being verbally or physically abusive to you or your children then it is very important that you seek help and advice. It is easy to blame yourself, think that they will change or believe that it will never happen again. However, none of these beliefs are true. If your partner has a problem then they need help and so do you. Find a friend or relative you can stay with or contact a refuge for help. Do not feel guilty for leaving - before you can help anyone else, you need to help yourself first.
Life afterwards
If you do decide it is time to go then the big wide world can seem like a scary place. Take things one step at a time and don't expect too much from yourself too soon. Know though, that as clichéd as it may sound, things will get better and you will discover a whole world of opportunity awaits you.
You might also like...