Communication Problems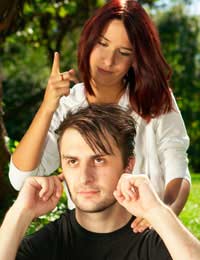 Communication is the key to any successful relationship but there are many factors that can hinder your ability to communicate effectively with your partner. When feelings run high and arguments start.
Listen, Listen, Listen
The biggest problem in having good communication is people's inability to listen. When you are angry about something or arguing then it feels so important to get your own message across that you don't pay attention to what your partner has to say. You may talk over them, walk away or interpret what they are saying the way that you want to.
Rectifying this problem can take a lot of work and you need to be patient and committed to resolving it. Try and identify what the big problems are. Do you talk loudly and non-stop? Do they walk out the house? Make an agreement that next time you argue you will try and stop these unhelpful behaviours and sit and talk calmly. This is much more easily said than done and it will probably take you a long time to make it happen.
When you do manage to talk, listen to what the other person is trying to say. Don't interrupt or try to argue with what they are saying but just listen. When your partner has had their say, summarise what they have told you. This shows that you were paying attention and understand their point and will help ease tension in the argument. A lot of the time arguments escalate because people don't feel they are being understood. You don't have to agree with what you partner is saying but you do have to understand it.
Be Clear About Your Message
We often expect out partners to be mind readers and understand what we are thinking and feeling, without actually telling them. This never works. You can't solve a problem unless you are both clear what it is in the first place.
When you have an issue that needs to be resolved, think about exactly what it is that bothers you, and what your partner could do to make it better. Then sit down and tell them. Be clear in your message by stating how the problem makes you feel, why and what specific actions could be taken to fix it.
Try not to draw other issues and arguments into everything. It is easy to try and counteract a problem with what your partner is doing wrong or something they said that hurt you last week. This isn't helpful. Address one issue at a time and don't try and attribute blame but look towards how you can make it better.
Write It Down
If you are having trouble talking calmly to your partner or don't seem to be able to get your point across clearly then try writing it down. By doing this it gives you time to think about what you want to say and express it in a way your partner will understand. Your partner will then be able to read it and take it in without counteracting you or letting emotions or previous arguments cloud their ability to listen.
Creating good communication in a relationship can be a long, ongoing process but it is a very important one. When you think you have one issue resolved another one will no doubt rear its ugly head but by having a good way of dealing with them and talking the problem through you can form a positive outcome.
You might also like...