How Our Marriage Survived an Affair: A Case Study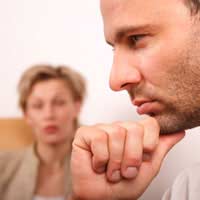 Christie, 45, was devastated to find out that her husband had had an affair but says that, ultimately, it has made their marriage stronger.
"To say that my husband cheating on me has made our relationship better sounds like I am kidding myself but it's true. It has taken a long time and a lot of heartache, but deciding to work through it has made us take a fresh look at our marriage and change the way that we communicate.
"Mike and I had been married for 15 years and had two children when the affair happened. He was working long hours, I was looking after the kids and my disabled mother and we hardly got to spend any time with each other. I am not making any excuses for him but our marriage was not in a healthy place and we both took our frustrations out on each other.
Discovering The Affair
"In hindsight I guess I knew there was probably something going on but I didn't have the energy or inclination to find out about it. Finally, in the middle of a massive row, Mike broke down and admitted that he had been having an affair with his secretary – clichéd to say the least! He swore that it was over and the guilt was eating him up but I was furious. I screamed, shouted, cried and refused to speak to him for two weeks."
Eventually Christie calmed down enough to listen to Mike and talk about what they were going to do.
"I had made him move out and he was living with his brother. I went round to see him because I knew that I couldn't move on without finding out more about the affair. It was very painful and I was ready to leave him but as I listened to him talk I couldn't believe that we had let our marriage get so bad. I still loved him and knew in my heart that although he was the one that cheated, I was also to blame for what had happened."
Counselling
"I still wasn't ready to let him back into my life but I agreed that we should try to work it out and we started going to counselling. It wasn't easy to hear how he felt and what had happened but it allowed us to be more honest than we had been in years. The counsellor was very good at getting us to open up and giving us exercises to do as 'homework'.
"Slowly we began to spend more time together and really make an effort to talk and enjoy each other's company. It wasn't easy and there were a number of times when I felt like giving up but we have eventually managed to put it behind us. That was 4 years ago now and although the memories are still painful we are in a much better place now. We have re-built the trust and make sure that we turn to each other when there is a problem and not somebody else."
You might also like...